Morgan Mabery signs for full scholarship at South Mountain College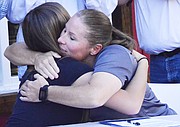 South Mountain is a two-year junior college. She will be on full athletic scholarship and will play catcher for the Cougars' softball team.
"I want to say thank you to my parents, and grandparents," Morgan Mabery said. "Thanks for driving me to all of my games across the state."
"It means an awful lot for me; we pride ourselves an awful lot on family," head coach Christa Pfeninger of South Mountain College said at the signing of Morgan Mabery, in front of her family and friends. "It makes me feel good that we are bringing in a great kid that comes from a great family."
Pfeninger first saw Mabery at the Maxback camp as a freshman and was helping her in drills. Coach Pfeninger noticed how fundamentally sound Mabery was behind the plate, and believes that she can help Mabery take her play to the next level. Pfeninger is an ex-catcher.
"I went to softball camp two-three years ago," Mabery said. "I thought she was an amazing. I wanted her to be my catching coach in college, and I think she is a great coach. I decided that catching is the position I want to play in college."
Pfeninger believes athletes that play club sports end up going on to colleges and universities to play sports. She recruits both high school athletes and as well as club athletes, but believes the athletes that play club sports are more advanced fundamentally and are used to competing against tougher competition.
"A lot of kids will email me, and I will go out and look at them," said Pfeninger. "A lot of kids who usually play club go on to play somewhere, usually it is through the club sports and not the high school. In club sports, you have the best of the best, and the team is put together. In high school, you will have the best of that high school playing together because they want to be a part of a high school team. A lot of the time, club sports are more competitive."
Mabery is looking forward to using this opportunity to audition for the next level, and play at a Division I school: The University of Colorado. She wants to pursue a career in criminal justice.
Before she can play with the Cougars next year, she must take care of business on the field this year. One of her main goals in her senior season for the Marauders is to make the playoffs. She hopes the team can put it all together this year and feels they are close to having success.
"It's huge," dad Scott Mabery said. "It is everything she has worked for in trying to be a college athlete, and she (Morgan) has worked very hard to be it. We are very proud of her."

"We are very proud of her," mom Gayle Mabery said. "She has kept this goal in front of her and has not waivered: Just extremely proud."
More like this story
SUBMIT FEEDBACK
Click Below to: