Cottonwood Aftershock runner Allyson Arellano wins 4th consecutive Arizona Junior Olympic Cross Country title
Originally Published: November 15, 2016 3:39 p.m.
FLAGSTAFF – Cottonwood Aftershock Distance Club runner Allyson Arellano won her fourth consecutive Arizona Junior Olympic Cross Country individual state championship Saturday at Buffalo Park.
Coach Micah Swenson said Saturday's race was basically a tempo run in preparation for regional competition next weekend in Colorado. Arellano's 5K winning time of 19:40.50 earned her a 32-second victory over Prescott's talented high school junior, Makenna Mills. Mills finished the challenging course in 20:12.89 for second place in the 17-18 girls race.
Swenson said Arellano, a two-time Cross Country All-American, took control of the race just before the 1-mile mark with a move to separate herself from Mills and the rest of the field.
"The remainder of the race," said Swenson, "saw Allyson out in front with the lead bike where she was able to fine tune some racing details and strategies in preparation for the rest of the championship season."
Arellano wasn't the only Aftershock runner to experience success. Josh Reilly and Trenton Stafford came away with top 10 finishes in the 15-16 boys division. Reilly was the first of the pair to cross the line with a 3rd place finish in 18:41.88. The finish was his best to date, improving off a 7th place finish in 2015. Not to be out done, Stafford finished in 10th (20:00.12), a vast improvement from his 2015 29th place result.
All three athletes will travel to Colorado next weekend to compete in the USATF Region 10 Championships. The event will be held at Fountain Creek Park, just south of Colorado Springs. While all three athletes will look to qualify for nationals on Dec. 10 in Hoover, Alabama. Arellano will be chasing another regional title, an honor she won back in 2014.
Collegiate news
Aftershock alums Penny Fenn and Karen Arellano now run for Avila University of Kansas City. Nov. 5, the freshman duo competed in their first Heart of America Athletic Conference Championship.
Running at Swope Park in Kansas City, Fenn broke her own school record by covering the hilly 5K in 18:51.09, to finish 10th among the 113-runner field, earning her 1st Team All-Conference honors and an individual qualifying spot for NAIA Cross Country Nationals. Fenn was recently named October's "Eagle of the Month" by the school's athletic department. She is the first runner in school history to qualify for nationals. Fenn will compete Saturday, Nov. 19, at the NAIA championships at the North Farm Cross Country Course in Elsah, Illinois.
National Championship for Arizona team
In Saturday's National Junior College Championships at the Prairie Trails Golf Course in El Dorado, Kansas, the Central Arizona College men's team claimed the school's seventh national cross country championship.
With sophomore Gilbert Kigen claiming his second individual crown in as many years for CAC, the Vaqueros won the team title with a low score of 49 points. Iowa Central, last year's national champions, was second with 62.
Kigen covered the 8-kilometer course, roughly 5 miles, in 23:47, to forge a 38-second win over Moses Dirane of Cloud County (Kansas) Community College. CAC placed three runners among the top-10 finishers. Jorge Perez finished third overall in 28:35 and Tuba City High School alum Anthony Masayesva finished ninth in the nation with a time of 25:23.44.
CAC's women's team finished second overall to Lansing Community College, 103-106. CAC's top female runner was Kaitlyn Volk, who covered the 5-kilometer course in 17:51.63.
Kigen is the second Central Arizona runner in the past four years to repeat as the individual champion at the national championships. Central Arizona runners have captured 11 individual titles all-time, which ranks first among NJCAA programs 
CAC's Harry Mulenga won the national titles in 2013-2014. He now competes for Florida State and last weekend finished 5th in the Southeast Regional Championships to qualify to compete in Saturday's (Nov. 19) NCAA championships in Terre Haute, Indiana.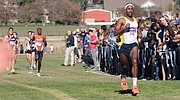 NCAA Championships
Going into this weekend's NCAA championship race, the final national coaches' poll ranks the Northern Arizona University men's team as the front-runner to win the national championships. The Lumberjacks, ranked No. 1 all season, are looking to claim the first NCAA title in the school's history.
According to the U.S. Track and Field and Cross County Coaches Association, "NAU's Mountain Region foes Colorado and BYU emerged from their regional dust-up with the Lumberjacks at No 2 and No. 4 in the land, with West Region winner Stanford moving up a spot to No. 3. Defending national champion Syracuse rounded out the pre-championships top-five."
For the women, the University of Colorado, whose team includes former Arizona Desert Vista standout Dani Jones, is No. 1 in the coaches' poll.
According to the USTFCCCA, "If you watched Colorado at all in its past two races — especially this past weekend at the Mountain Region Championships — there is little reason to doubt a third crown won't be going back to Boulder on Saturday. It was in Logan, Utah where the Buffs demolished a field with four other teams that were ranked in the Week 6 poll. Colorado put six runners in the top-12 (4-6-7-8-10-12) and scored the second fewest points in the past 12 years of the meet (35)."
The Buffs are one of seven regional champs in the top-10 of this week's poll.
No. 2 NC State notched an equally as dominant victory in the Southeast Region as it won by 110 points and packed up well behind individual runner-up Erika Kemp.
No. 3 Providence held off a game challenge from No. 17 Harvard in the Northeast Region as depth issues continue to rear their ugly heads.
No. 4 Stanford, led by a trio of talented freshmen, won its first West Region crown since 2007 after dispatching now-No. 7 Washington 71-88.
No. 5 Michigan won its fifth Great Lakes Region title in the past six years behind another individual victory by Erin Finn, who is the odds-on favorite at NCAAs.
More like this story
SUBMIT FEEDBACK
Click Below to: