Semi-truck catches fire on I-17 near Camp Verde
Southbound lanes shut down during fire control
Originally Published: November 16, 2016 12:18 p.m.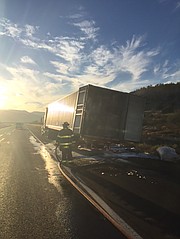 CAMP VERDE – Copper Canyon Fire and Medical Authority was dispatched around 4:30 p.m. Tuesday to a semi-truck fire on I-17 southbound at milepost 289.5 near Camp Verde.
Battalion Chief Steve Sarkesian of CCFMA said upon arrival, smoke was seen coming from underneath the trailer of the semi-truck.
The fire outside the trailer was quickly extinguished, said Battalion Chief Steve Sarkesian.
The driver of the semi-truck told fire personnel that he did not have a key for the back doors, so the lock was cut to make access to the contents of the trailer, according to a news release from CCFMA.

A smoldering fire was encountered, said Battalion Chief Steve Sarkesian, and CCFMA personnel utilized a loader - with forks to pull the pallets from the trailer - to extinguish the interior fire.
Both lanes were shut down for about 10 minutes, according to the release. After initial fire control of the exterior fire, one lane was opened up to southbound traffic.
One lane was kept closed for the duration of fire operations, salvage and overhaul that lasted approximately two hours, said Battalion Chief Steve Sarkesian.
No injuries to fire personnel or civilians were noted.
DPS and ADOT controlled traffic and assisted with removal of the vehicle and its contents, according to the release.

The cause of the fire is undetermined at this time.
More like this story
SUBMIT FEEDBACK
Click Below to: