Editorial: A solid mission, clearly communicated, shows VACTE on progressive path
Originally Published: November 17, 2016 3:16 p.m.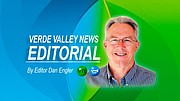 For years, the educational animal known as Verde Valley Career and Technical Education was a mystery to most people.
A few folks understood that it was another layer of property taxation for vocational education training.
The problem a lot of people had with VACTE was distinguishing exactly what was being done with those tax dollars.
In its early inception, some Verde Valley school districts – most notably Mingus Union – protested that VACTE was administratively heavy with a disproportionate share of tax revenue being used to actually educate kids. Camp Verde's new school superintendent had similar complaints last year after he carefully studied the program and its educational offerings.
All that combined with a shoddy job of displaying meeting minutes on its own web site, or responding to public records requests, left many people lacking confidence in the organization.
But what's obvious today is the VACTE ship is on a credible mission and its captain is clearly and thoroughly communicating the direction the organization is going.
Superintendent Bob Weir is steering VACTE away from the former satellite programs and more in the direction of centralized educational offerings, with an emphasis on utilizing existing facilities at Yavapai College's Clarkdale and Sedona campuses and the Cottonwood-based Arizona Tech College. Those programs include fire science, nursing, welding, and digital film and television.
Further, Weir is not done. He also wants to see VACTE facilitate centralized class offerings for a medical assistant program, construction technology, lab assistant, heating and air conditioning (HVAC), law enforcement and culinary arts.
The icing on the cake is that many of these class offerings simultaneously provide both college and high school credit, with many of the programs funded by either VACTE or by grants.
Weir is taking the program in a solid direction, and he's communicating the mission in a manner that builds community confidence and trust.
Weir is taking the mystery out of VACTE, which is long overdue.
SUBMIT FEEDBACK
Click Below to:
More like this story