National Champions! NAU men's cross country team wins NCAA cross country title
Originally Published: November 20, 2016 11:42 a.m.
Upsets were the rule of the rule of the day in Saturday's NCAA cross country championships in Terre Haute, Indiana.
Oregon's defending three-time national champion Edward "King" Cheserek saw his bid for an unprecedented fourth consecutive national title fail as he finished a shocking third.
Colorado's women's team, considered the most dominant team in the nation all season, finished third behind Oregon and Michigan.
And in a historical sense, the men's team title claimed by Northern Arizona University was an upset of sorts as the Lumberjacks had never won an NCAA Division 1 championship in cross country, or any other sport for that matter.
But for keen distance running observers, the NAU victory really did not come as a surprise. As NAU Athletics Communications Graduate Assistant Brian F. Campbell Jr. explained, this year's Lumberjack team has "been undefeated this season, winning all six of their scheduled events by an average of 23 points."
Further, said Campbell, this year's NAU men's team accomplished the following:
First time in school history NAU has garnered the unanimous No. 1 ranking, and have held onto it for three consecutive USTFCCCA National Polls (have been ranked No. 1 five straight weeks overall).

Made Big Sky Championship history by accounting for first through sixth place at the race (first time that has ever happened).

Registered the school's and conference's second-ever perfect score at conference championships with 15 points.

Won one of the largest national meets of the season (the Nuttycombe Wisconsin Invitational) as well as the NCAA Mountain Region for the third time in the last five seasons.

Lumberjack Futsum Zienasellassie won his second-career Big Sky Championships individual title, becoming just the fourth Lumberjack and 10th Big Sky athlete ever to accomplish the feat.

Zienasellassie also won the NCAA Mountain Region Individual title, for which he was awarded the USTFCCCA's 2016 Mountain Region Male Athlete of the Year Award.

NAU runners Tyler Day, Cory Glines, Matt Baxter and Nathan Weitz earned All-Big Sky and All-Mountain Region status.
Saturday, the NAU men won the NCAA team title with a low score of 125 points. Stanford was second with 158 points and defending 2015 national champions Syracuse was third with 164 points.
The NAU men placed two runners in the top 15 and three in the top 25 en route to the Lumberjacks' NCAA title. Senior Futsum Zienasellassie was fourth overall, covering the 10-kilometer course in 29:49, a little more than one second behind Cheserek. Villanova senior Patrick Tiernan won the race in 29:22 and Syracuse's talented junior Justyn Knight was second in 29:27.
NAU junior Matthew Baxter was 11th overall (9th in team scoring) with a 30:03 clocking. Sophomore Tyler Day covered the 10K course in 30:13 to finish 23rd individually and 18th in the team scoring. NAU's No. 4 man was Tucson's Andy Trouard, who was 37th individually and 29th in the team scores. Trouard, a 1500-meter specialist in the spring track season, showed great range by clocking in at 30:23 over 10,000 meters. NAU's final scoring runner was junior Cory Climes, 84th overall, but 66th in team scoring. He finished the course in 30:46.
Coach Eric Heins to leave program
The NAU victory could not be a more perfect send-off for Coach Eric Heins, who steps down as the Lumberjack coach Nov. 30. Heins is moving to Houston, where his wife, Kaci, accepted an educator supervisor position at the Space Center in Houston, according to FloTrack, which also reported that Heins, "in his nine years at Northern Arizona … coached his teams to 26 Big Sky Conference Championships and produced eight top-10 NCAA finishes. In addition, Heins coached 11 athletes to All-American honors in cross country, and was named 'Coach of the Year' by the conference 24 times."
Heins will be succeeded by Michael Smith. Smith, according to a Big Sky Conference release, "comes to NAU with championship experience and a background in altitude training. He spent the last four years at Georgetown University, most recently serving as the Director/Head Coach of the Men's and Women's Cross Country and Track & Field programs during the 2015-16 school year. Prior to Georgetown, Smith lived in Flagstaff for six years, and founded Team Run Flagstaff, while also working under Dr. Jack Daniels at NAU's Center for High Altitude Training, a U.S. Olympic Training Site for long distance running."
NAU history at NCAA Championships
According to Campbell, prior to Saturday's NCAA win by the Lumberjacks, the NAU men had recorded eight top 10 NCAA finishes in the school's history, 10 top 5 finishes and the 'Jacks had claimed the NCAA runner-up spot three times: in 1988 and 1995 under former Coach Ron Mann and again in 2013 under Coach Heins.
NAU's first-ever top-10 finish in the NCAA championships came in 1971 under former Coach Leo Haberlack when the Lumberjacks finished ninth in a race won by Oregon's legendary Steve Prefontaine (29:14). NAU's Richard Sliney finished sixth in that race in 29:47.
NCAA Women's Race
After being ranked as the nation's No. 1 team all season, the University of Colorado finished a surprising third with 134 points. Oregon, led by the fourth-place finish by freshman standout Katie Rainsberger, won the team title with 125 points and Michigan was second, just one point back.
Missouri junior Karissa Schweizer won the individual championship by covering the 6-kilometer course (3.7 miles) in 19:14. Erin Finn of Michigan was second in 19:44; Notre Dame's Anna Rhorer, a sophomore, was third, also in 19:44.
Colorado's top finisher was former Arizona Desert Vista standout Dani Jones, a sophomore, who finished 22nd in 20:14.
Oregon's Rainsberger (fourth in 19:51) wasn't the only freshman runner to turn heads Saturday. Arkansas frosh Taylor Werner finished 16th and Stanford first-year runners Fionna O'Keefe and Christina Aragon finished 37-38.
NAIA National Championships
Former Mingus Union High School standout Jordan Bramblett, now a sophomore at Embry Riddle University, finished 29th individually (18th in team scoring) in Saturday's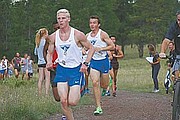 National Association of Intercollegiate Athletics 61st annual men's cross country championship in Elsah, Illinois.
Bramblett covered the 8-kilometer course (4.97 miles) in 25:13 to lead Embry Riddle to a 20th-place team finish. Overall, Bramblett finished 29th among 331 runners.
Arizona schools claim two national titles in two weeks
Saturday's NCAA crown won by the NAU men's team marked the second consecutive week an Arizona school has won a national championship in men's cross country. Last weekend in the National Junior College Championships at the Prairie Trails Golf Course in El Dorado, Kansas, the Central Arizona College men's team claimed the school's seventh national cross country championship.
With sophomore Gilbert Kigen claiming his second individual crown in as many years for CAC, the Vaqueros won the team title with a low score of 49 points. Iowa Central, last year's national champions, was second with 62.
Kigen covered the 8-kilometer course, roughly 5 miles, in 23:47, to forge a 38-second win over Moses Dirane of Cloud County (Kansas) Community College. CAC placed three runners among the top-10 finishers. Jorge Perez finished third overall in 28:35 and Tuba City High School alum Anthony Masayesva finished ninth in the nation with a time of 25:23.44.
SUBMIT FEEDBACK
Click Below to:
More like this story