Sedona Pathways Our Daily Journey Nov. 24, 2016
Originally Published: November 25, 2016 10:50 a.m.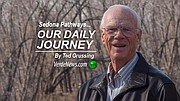 While we were eating turkey, this young lady was eating grass, compliments of Chaparral Pines Golf course.
I ending up going over to a friend's home in Payson for Thanksgiving dinner yesterday instead of the quiet day at home I had planned … first time I have been invited anywhere via a call on an aviation frequency whilst in the air, so said yes. After a delightful dinner I headed home and while heading out of the Chaparral Pines community I spotted a herd of Elk dining on lush and not so lush grass. It was at sunset so the lighting was not great, but I got some good shots. Love this shot, so on with the holiday weekend.
Back Monday morning … cheers and keep breathing … never know what will be coming your way next … expect beauty and it will envelop you.
Ted
I am the dawn, the whisper of winds, the perfume of morning.
The passing night fondled me, hovering close to me, softly, silently.
The breaking day builds the spirit temple of my joy, I abandon myself!
I see all as one, and nothing repels me, as this new day climbs noiselessly out of the valley of the night.
Peace lies over the world and over the world of my soul.
Max Ehrmann
More like this story
SUBMIT FEEDBACK
Click Below to: