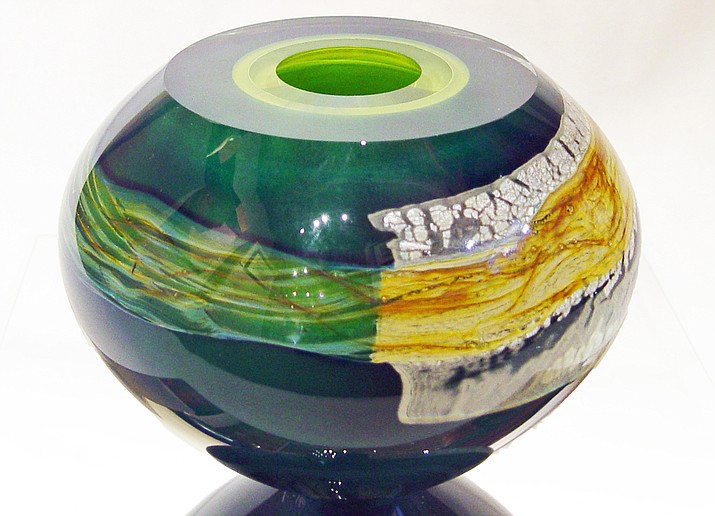 ---
---
Lanning Gallery in Sedona ushers in the holidays with special gift ideas for the art lovers in your life. A reception on 1st Friday, December 2nd, from 5-8 pm opens the gallery's "Holiday Gift Show."
Just in is a new selection of hand-blown studio glass from internationally known artist Randi Solin. Representing a fusion of the American Studio Art Glass movement and classic Venetian glassblowing, each glass sculpture by Randi Solin offers breathtaking optics and coloration in its interior and exterior with impressive weight and mass.
As the artist explains, "My optics serve as the window into my coloration process – into the soul of a piece – allowing a viewer to peer into its life, like the rings of a tree."
Also new at the gallery are saggar-fired vessels from popular Raku artist Bob Smith. With satiny surfaces of rich earth-tones, these vessels are not glazed at all; it is the unpredictable effects of chosen combustibles, placed by the artist inside the saggar that surrounds the piece during firing that creates their colorations.
For clock lovers, no clocks are more singular that those of artist Roger Wood. Wood uses found objects to create clocks on wheels, clocks exploding from vintage bugles, and so much more in a style that today's trends would define as "steam punk."
Classic and Contemporary paintings, in a range of mediums and styles; sculptures in stone, bronze, wood or ceramic; exquisite jewelry by three award-winning artists; and, art furniture by Sticks all await holiday shoppers at Lanning Gallery. This is the perfect time to indulge in the arts and take home that piece of artwork that would make this holiday a truly special one.
Stop in to the opening for the "Holiday Gift Show" at Lanning Gallery in Sedona and get in that holiday spirit. Exhibition through Christmas Eve.
For additional information and photos see LanningGallerySedona on Facebook or visit the gallery on Pinterest. Lanning Gallery, 928-282-6865, mail@lanninggallery.com, www.lanninggallery.com.
Located at Hozho, 431 S.R. 179, Sedona, AZ. Open daily: 10-6 Mon-Sat; 11-5 Sun.