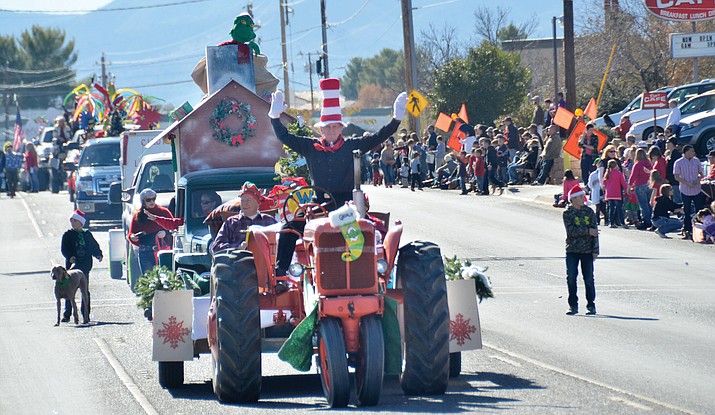 Originally Published: November 29, 2016 3:42 p.m.
COTTONWOOD – Now in its 62nd year, the Christmas Parade is ready to make its festive pilgrimage from the Verde Valley Fairgrounds to the end of Old Town Dec. 3.
The Parade march will begin at 11 a.m.
Retired Cottonwood police chief and current Verde Valley Constable Jody Fanning will be the Grand Marshal.
Coleen Gilboy, Verde Valley Fair Director, said there are about 68 parade entries so far, and expects that number to increase to about 100 at parade time.
This year's theme is "Wild Wild West."
"The last four years our float entries have gone through the roof. It's not just a pick-up truck anymore," said Gilboy.
The Christmas Parade is a year-round endeavor. Right after the parade, its committee members make notes on what they want to change for next year. They start looking at who the Grand Marshall will be. By March, the committee will be asked about the theme so that float decorators can get to work.
This year, there will be a shuttle for children who are in the parade. Buses will transport the children from Old Town (at the end of the parade route) back to the fairgrounds to be picked up. This will help traffic to flow better.
Gilboy said the parade committee, police, the chamber, and the city are all working together to get the shuttle going this year.
Getting the parade ready is no small task. It takes about an hour and a half just to get the parade out of the parking lot of the fairgrounds.
The parade track is approximately 2.25-miles long, with a duration of about an hour and 45 minutes.
The parade line-up is crucial.
"I'm a little bit of a control freak. The line-up is mine. I want to make sure music's not next to music. I want to make sure that we don't have a horse troop and then the gymnasts. We don't want to have the fire trucks and then the horses - it's not a good match," emphasized Gilboy.
Gilboy reflected on some of themes of the past, such as Cindy Lou Who, Pearl Harbor Day, the Five Cs of Arizona, and An Old Fashioned Christmas.
"Those are my favorites. What I think is going to happen never does, so it's real exciting," she said.
Gilboy also remembers watching the parade as a child.
"As Girl Scouts, we were in it, and I loved it. And I feel it is a way for our community to shine."
Those interested in signing up for the parade may do so at the Chamber of Commerce website http://www.cottonwoodchamberaz.org/. "Yes, we have room. We want everyone to be involved; kids especially," said Gilboy.
"It starts the holiday. The Christmas Parade, Chocolate Walk. Boom. Christmas season!"