Strong second half allows Cowboys to put the hurt on Parker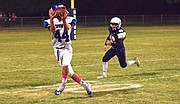 PARKER -- Whatever Coach Jerome Rhoades has his Cowboy football players drinking, everyone in Camp Verde should ask for a sip. Instead of Gatorade, he has them drinking Believerade. Belief in his coaching ability to turn a winless program into a 3-5 team with two wins in a row.
The Cowboys went on the road and handled the Parker Broncos, 21-0, Friday night.
Last week coach Rhoades said his team would have an answer for the Wing-T the Broncos ran. In a game where force met force, something had to give after a scoreless first half. Both teams could not move them ball forcing three and out in a battle of field position.
"I told you last week I had tricks for the Wing-T, remember?" Coach Rhoades said.
"It was scoreless at halftime, and we told the kids all week long whoever wanted the game the most was going to win. We challenged them at half, and they accepted the challenge, and we started running the ball down their throat."
In the second half, the Cowboys (3-5, 2A Central 2-3) made an adjustment in their game plan by running isolation right at them, going power I right and power I left. The Broncos struggled to get a hand on Domenic Bruno, as he followed the lead block of Ryan Loza, taking out the linebacker who filled the hole, which would free up Bruno for four and five yards at a time. The Cowboys scored on a pass play to senior Carson Zale in the third quarter, and then another one to put the Cowboys up 14-0.
"Once we scored you could tell that their team kind of quit," coach Rhoades said. "I tell you the kids are believing, and they are starting to get in shape."
Rhoades changed to a more power I football team and a game that demands a physicality, instead of the finesse run and spread, because he believes he doesn't have the personnel to run that scheme, and he feels this team has a toughness about them that has gone untapped. He just felt they had to get into top physical shape to play that style of football. For the Cowboys, conditioning is an ongoing thing, and will be until the end of the season.

"This team (Broncos 2-6, 2-3 2A Central) that we faced tonight was so much better than we were tonight on the defensive line of scrimmage," coach Rhoades said. "We finally decide to go to a power I and run our big back Ryan Loza at the big number 77's gut every single time and then run an isolation off of that, we would either run that or trap him, or run it the other way. We ran two plays the entire second half. We hit him every single play in the fourth quarter. They quit."
On defense the Cowboys forced two fumbles, and recovered both of them. They also had two interceptions with Bruno having one of them while shutting the Wing-T down.
The Cowboys had 130 yards rushing and 120 yards passing, with no interceptions with senior quarterback Payton Sarkesian throwing three darts for touchdowns. Carson Zale caught two touchdown passes. Zale scored on an out and up and a slant and go route and Ryan Loza had one touchdown pass, as he scored on a circle route out of the backfield.
With back to back wins and shutouts the defense is hitting their stride, while the offense is playing more physical and ball control to help keep them in games.
"We just make our kids believe they can win," coach Rhoades said.
The Cowboys face Gilbert Christian at home on Oct. 21, at 7 p.m.
More like this story
SUBMIT FEEDBACK
Click Below to: