'UFOs Over Arizona'
Book explores 80 incidents, some in Verde Valley

By
Tom Tracey
|
tweetin_tom
Originally Published: October 27, 2016 2:15 p.m.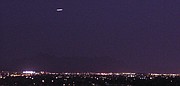 VERDE VALLEY – With high-profile UFO sightings such as the Paradise Valley UFO crash, the Phoenix Lights and the Travis Walton Abduction making global headlines, Arizona was ripe for a cataloging of incidents under one cover. Paranormal researcher Preston Dennett (of the History Channel's UFO Hunters and Deep Sea UFOs as well as author of 16 books and 100 articles) has taken-on the task with his book "UFOs Over Arizona." We asked Dennett the following questions: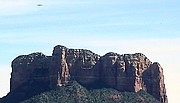 Q: What got you interested in UFO research?
A: "I used to be very skeptical of UFOs. Then in November of 1986, a sighting occurred over Alaska, and was reported on the evening news. I didn't believe it, but I made the mistake of asking my friends, family and co-workers what they thought about this ridiculous pilot. I got an incredible shock and found out that at least 25 percent of people that I knew had experienced dramatic encounters, including at least five people who had either missing time or a face-to-face encounter with ETs (extra-terrestrials)."
Q: Why do you believe that Arizona is such a hotspot for UFO sightings?
A: "Arizona is definitely more active than most states in the U.S. The reasons remain a mystery. One reason might be the large number of copper mines. UFOs are known to hover over mines. A good example is the sighting that occurred over the Morenci copper plant on October 23, 1980. Several employees observed a black boomerang-shaped object hover low over the smokestacks. There are several other cases, such as a sighting over the Pima mine on July 22, 1971; a sighting in the summer of 1980 over the Lavender Pit copper mine in Bisbee; a case from June 1947 of a landed UFO at the Bisbee copper mine and more.
UFOs are also attracted to power stations, dams, reservoirs and military bases of which Arizona has plenty.
For example, in the 1950s there were repeated sightings over Davis Dam, sightings and landings in the 1970s near the Childs Hydroelectric Plant; sightings near the Palo Verde Nuclear Power Station, and sightings over the San Carlos Reservoir.
As far as military bases: it's a long list, including Luke AFB, Williams AFB, Davis-Monthan AFB, Fort Huachuca, Yuma Test station and more.
Then of course there is Sedona, which is arguably Arizona's most active hotspot. The reason is unknown, but the main theory is that there is some sort of vortex of energy which acts as a portal for the UFOs, or somehow allows them to become visible. And of course, there are the many rumors (and a few firsthand accounts) of underground UFO bases.
Finally, Arizona has had some very high profile cases such as the Travis Walton abduction and the Phoenix Lights. As a result, Arizonans are more aware of UFOs than the average person in the U.S."
Q: Are you finding it easier or more difficult obtaining government information regarding sightings?
A: "There is still a cover-up of UFOs; however, it is failing. There is a strong movement toward disclosure and I can't see it trending the other way.
State governments - - meaning, police - - seem to be more open and they were cooperative referring me cases in the past. I am periodically contacted by people who have worked for the U.S. government in various capacities who are looking for somebody to report their cases to. I've talked to radar guys, a submarine navigator, a navy engineer, a navy corpsman, government subcontractors, army guards and others who each have a UFO story to tell.
More and more "whistleblowers" are coming out of the woodwork, so in some respects, it is getting easier to obtain this information. Unfortunately, obtaining the same information through "official" channels is still problematic. The Air Force still maintains that they have no interest in UFOs. This is demonstrably false."
Q: Our readership ranges from Camp Verde (east) to Village of Oak Creek (north) to Jerome (west) and Clarkdale and Cottonwood in between. What UFO sightings have been reported in these locations?
Cottonwood, 1968:
"They were looking at the Mingus Mountains which faced their porch when "an odd light" appeared above the mountains. It rose up slightly, then, as Larry says, "...it suddenly lit up the whole valley...It was oval shaped, and just hovered there for about half an hour. Then the light went out slowly until it was a small light and dark out. All of a sudden two more lights merged with the other and hovered there for a couple of seconds and then shot off to the North."
Cottonwood, 1986:
A resident of Cottonwood saw a formation of six glowing object hovering in formation over the Cottonwood power-company substation. After several minutes, they moved away to the south.
Around the same time as the above incident, another Cottonwood resident was driving over Mingus Mountain when she saw a group of glowing orange spheres of light moving as if in procession. Seconds later she saw three military helicopters chasing the objects. The entire incident lasted only about ten seconds.
Camp Verde, 1978:
"Derrick Olson (pseudonym) was surprised to see an article in the Verde Independent newspaper about a sighting over the local hydroelectric plant run by the APS (Arizona Public service.) According to the article, two employees of the plant observed the object and reported it to the local press.
About a month later, Olson was driving in the area of the plant when he stopped to help a lady change a flat tire on her truck. By coincidence she turned out to be the wife of one of the engineers who worked and lived at the plant. Their report was that the craft hovered above the plant and sucked energy from it, causing the power dials to drop and create a very noticeable change in electric transmission, something they would have to report to APS, of course.
They did not want to cause too much trouble or get too much attention, so they did not tell the news that in addition to this experience, they not only saw them but met them as well."
Sedona, 1986-1988:
"One case involves an anonymous woman who lived in an outlying section of Sedona. One evening while preparing dinner, the entire area around her house became illuminated by brilliant orange light. Rushing outside, she saw a disk-shaped object larger than her house moving only a few hundred feet overhead. It moved up a nearby canyon before suddenly disappearing.
Another case occurred to three Sedona residents who observed a "slow-moving, hat-shaped, grayish-silver UFO" which flew directly over the local airport. It then moved over the town and behind Capitol Butte.
"Stan" had seen a red and white colored object hovering over his home in the Loy Butte area. Usually the object was off in the distance. One evening, however, it flew directly toward him, stopping close overhead.
A father and son were hiking on Airport Mesa when they saw a large silver cigar-shaped object hovering between the thunderclouds overhead. They watched it for ten minutes as it remained perfectly stationary, until it became lost in the clouds.
A family in Sedona was driving near Doe Mountain when they saw what appeared to be a helicopter. Suddenly the helicopter transformed into a brilliant sphere emitting a rainbow array of prismatic colors. The sphere then rocketed upward until it was only a point of light, at which point it disappeared in the clouds at high speed.
A resident of the Les Springs development watched a small orb of light from her window as it zigzagged near Steamboat Rock.
Four tourists were hiking on Bell Rock when they saw three disk-shaped objects hovering in formation overhead. They allegedly took photos of the objects, which quickly darted west to the Apache Mountains.
Two visitors staying in a hotel in Sedona watched a UFO from their hotel room window as it flew over Schnebly Hill. The object stopped, and then ejected a glowing red sphere which danced around the larger object. After several moments, the red object attached itself to the larger object and the strange UFO darted away.
Two local residents observed a "glowing, low-flying object" move at super high speeds directly over downtown Sedona at around 4 a.m.
Navajo Rangers share unexplained cases with local MUFON
Over 80 attendees packed the Sedona Library Oct. 21 for a local MUFON (Mutual UFO Network) meeting as two Navajo Rangers shared their investigations of unexplained phenomenon occurring on the Navajo Nation as part of their Special Projects Unit.
Law enforcement officers Jon Dover (retired lieutenant) and Stanley Milford Jr. (sergeant) produced photographs, scientific reports and witness statements surrounding a wide-range of incidents. These cases included strange light formations, odd figures and altered geographic and magnetic properties of affected property.
Photographs of collected physical evidence such as hair tufts, unusually large footprints and odd coins were also included in their two hour presentation.
Investigations ranged from an elderly man encountering unidentifiable figures at night to one of the Nation's own buildings disrupted by coins dropping from uninhabited areas (one of which was Taiwanese in origin).
Although the officers have the support of their Department of Resources Enforcement, not everyone is onboard with them sharing their cases with the public.
One night prior to the well-publicized "Phoenix Lights" incident of March 13, 1996, Dover filmed the formation over his home in Leupp (some 40 miles east of Flagstaff). Afterwards, someone identifying himself as an investigator from Grants, NM knocked on his door, asking Dover to hand over the recorded 8 mm tape. Dover complied, knowing he had made a VHS backup - - until later discovering his children had recorded a TV show over it.
Milford Jr. believes it is his duty to disclose these cases to the public rather than to deny that they exist.
"I took an oath to protect people, to serve people and to tell the truth," said Milford Jr.
The local chapter of MUFON (a global organization) meets monthly at the Sedona Library. Visit www.sedonamufon.com for more information.
SUBMIT FEEDBACK
Click Below to:
More like this story