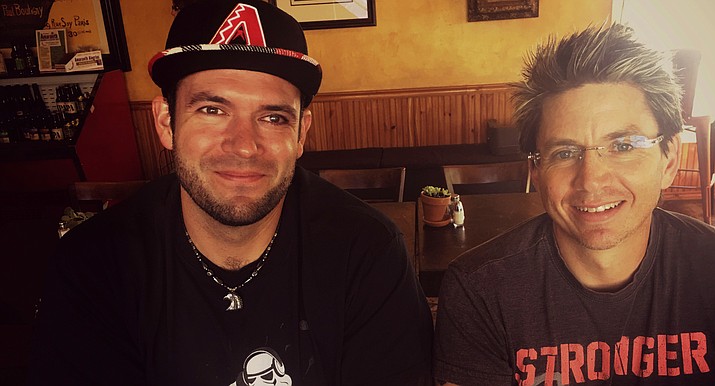 ---
---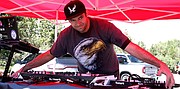 The Millennials are in our midst and are a growing, vibrant part of our community. Many of them are endowed with a natural scene of the power of collaborative endeavor, a plethora of creative approaches, a strong scene of social responsibility and a zest for life. They also bring management and organizational skills to whatever they do.
In Sedona 2 of these individuals are Craig Eagle and Josh Lillis and together they are the movers and shakers behind Club Life – creating high-end club style parties to benefit deserving individuals and organizations doing good work.
Craig Eagle aka DJ Eagle One (who is a member of the Gone Green Records band and the owner, manager of SNAP Fitness locations in Sedona area, Cottonwood, and Boulder City, NV, and Head Baseball Coach Sedona Red Rock High School) and Josh Lillis, (Founder/Owner Sedona Sign company and known for his work with famous mime Robert Shields), invented Club Life in response to Zoe Wild's fundraising appeal for the refugees in Greece with the their first big party fundraiser in February at the Barking Frog Bar & Grill.
This November the 5th they bring their magic and 'tribe' to the Sedona Hub with an outdoor fire-dancing performance at the skate park leading into an extravaganza dance party inside. This event benefits Red Earth Theatre, a nonprofit, volunteer organization who has been partnering and playing within the Verde Valley area for over 3 years. Now under contract with the City of Sedona to manage the Sedona Hub as a flexible, affordable performing arts venue for everyone, Red Earth continues to offer performances and produce work for/with others quite separately from the Hub work.
How do two young men decide to bring their talent and passion to a community in this way? Craig Eagle was raised to give back, and after a career in baseball, moving to Sedona in 2008, and developing 4 successful SNAP Fitness Centers, he found his "tribe, like-minded youth who loved music and community.
Josh has been in Sedona for 22 years working in the sign business and before that for artist and entrepreneur Robert Shields assisting with his national events and productions. A traumatic life -experience in another country less than two years ago starkly demonstrated the value of life and community even if they are strangers. Returning to Sedona, he made a commitment to use his skills to support those who in some way honor, celebrate and contribute to healthy, vibrant community.
The number of young individuals with small businesses in our area who share those values of hard work, sharing, communal support and giving back while having fun is extraordinary. Bringing their skills, goods and time to co-create in Night Life No.2 (Club Life #2) are more than 30 businesses and 50 individuals.
Among the businesses who are providing their goods and expertise are Sedona Sign Co., Verve Events and Tents, The Local Juicery, Tres Visio Productions, 3s In The Trees Food Truck from Flagstaff, Linzey Patruca Bow w/ Snap Photo Booth, The Chai Spot, Sedona Soul Spaces, Village of Oak Creek Chevron/ Cottonwood 76, and Café Paleo Brio.
Performers include DJs include Jessy Wessy, NickiJams, DJ Eagle One, Kayt Pearl, and Alo Moniz; with dancers including Heidi Benson with Priya Pilates, Christina Kleva, Alexandra Milet, and Tiffany Nguyen. Organizing and Performing at the skatepark are Matt Hunsaker with Aloha Holistics, Sarah Ann Lesslie, Corinne Vivers with Mourning Fyre, Jessica Packard, Flow Shop, Matchstick Rush, QT Entertainment, Spencer Alford/Ice Cream Alchemist and Firelight Fashions, along with Ken Koshio, Taiko Drummer.
As this goes to press sponsors include: Sedona Sign Co., Villegas Landscape, Namti Spa, Verve Tents and Events, The Collective Sedona, Village Chevron and Cottonwood 76, Illuminate Film Festival, Sedona Wine Tours, Paleo Brio, Visual Displays Mark Short, Berry Divine, Hayley Healey Movement Progressions Studio, Sandy Lochow with her Star Lights, Joy Moore and Karl Samter with Russ Lyon Sotheby's, 420 TV and Red Earth Theatre.
Too often we hear that either that there are not any young people here or complaints that they are not engaged in the community. This sort of event and those from other 'youth' who also co-create in our towns - Dexx's Secret Sessions, Thomas MacPherson at the Collective, and the many beautiful concerts and performances offered at truly reasonable prices to the community - plus the organizations driven by youthful energy who support and provide space for so many – Local Juicery, Chocolatree, Paleo Brio, The Sedona Hub – prove that is a misconception.
If You Go ...
What: Night Life No. 2 – Fundraiser Dance Party
Where: The Sedona Hub
When: Saturday November 5th 6pm-midnight
Tickets: $20 at the door and available online at: www.showtix4u.com; Also at SNAP Fitness and Café Paleo Brio
More info: Facebook Event Night Life No.2, www.redearththeatre.org