Fort Verde honors veterans with annual 'History of the Soldier'
Historical reenactments, military drills, fashion show, period church service, military encampments all part of annual event at Fort Verde State Park
By
Bill Helm
|
BillHelm42
Originally Published: April 1, 2017 2:15 p.m.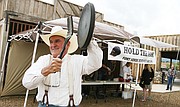 CAMP VERDE – A patriot is a person who vigorously defends one's country.
For some, that defense requires weaponry. For others, it's a matter of keeping this nation's way of life and its beliefs alive. Coming up April 8-9, folks at Camp Verde's sole state park will again celebrate the History of the Soldier.
This year, as with each of the past several years, Fort Verde State Historic Park will put on its annual History of the Soldier event with historical reenactments, military drills, a fashion show, a period church service, flag-raising and flag-lowering ceremonies, military encampments, weapons demonstrations and Dutch oven demonstrations.
Fort Verde will honor the commitment and sacrifice of both men and women from the Armed Forces of all eras as it invites veterans from across Arizona to attend History of the Soldier.
At 0-900 hours both Saturday and Sunday, come watch the flag raising ceremony at the Fort's parade grounds, followed by Al Raitano's emotional and story-telling rendition of the Star Spangled Banner.
After the 0-930 drill call, Saturday will showcase an artillery demo at 1000 hours by the 1st Texas Artillery and 3rd US Artillery-Battery A.
At 1000 hours Sunday, go to church, like they did on the frontier for an 1880s Period Church Service at the Fort's Commanding Officers Quarters.
Saturday at 1100 hours, come watch a military presentation, followed at 1130 hours by John Yazzie's Navajo Code Talkers presentation. On Sunday, Yazzie will again present Navajo Code Talkers at 1100 hours.
Rest assured, folks in attendance will be pretty hungry at noon. So make sure to stick around for the Dutch oven demonstration at the Cook Shack, as Saturday's lunch is also available to the general public at a suggested donation of $8 per person.
For the better part of 12 years, Bill Stafford and Bob Tener have demonstrated cooking with the outdoor cooking vessels at Fort Verde's signature events.
And when they're not donating their time or talents at the Fort or for other volunteering efforts, Stafford and Tener each likes to cook for friends and family – also with the Dutch oven.
Dutch cooking demonstrations will also take place Sunday morning and afternoon, but on Sunday, the chefs will only have enough food for the Fort's historical reenactors.
State historian and featured presenter Marshall Trimble will be at the Fort on Saturday at 1300 hours. At 1300 hours on Sunday, come listen to Dr. Sam Palmer talk about the Battle of Big Dry Wash.
Other presentations and reenactments this weekend include a Victorian tea and a Military Timeline Fashion Show. And there will be artillery demonstrations throughout the weekend.
Fort Verde State Historic Park is open from 9 a.m. until 5 p.m. daily. Park entrance is $7 for adults (14+), $4 for kids ages 7-13, and free for kids ages 6 and younger.
For more information, call 928-567-3275.
SUBMIT FEEDBACK
Click Below to:
More like this story