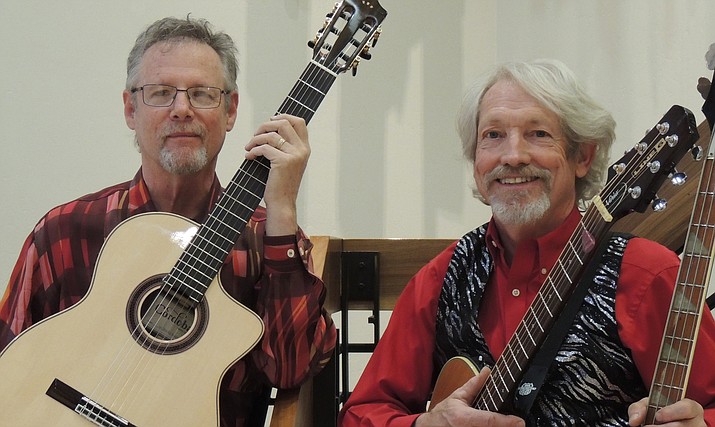 ---
---
Wednesday, April 5, enjoy the synergy of the Sedona Guitar Duo featuring Rick Cyge and Steve Douglas. Performing on acoustic guitars and electric bass, this exceptional duo shares their exciting take on Baby Boomer Classics and more with unexpected counterpoint and instrumental harmonies.
Their weekly appearances at the Hilton's Grille at ShadowRock in Village of Oak Creek take place from 6-9 p.m. every Wednesday in April.
The vibrant New England folk music scene of the 1970's and 80's launched fingerstyle guitarist, Rick Cyge's career. He later relocated to Arizona where he often performs concerts and special events both solo and in the duo, 'Meadowlark' with flutist, Lynn Trombetta, and in the popular vocal/guitar duo, Seymour & Cyge with Chris Seymour.
A local favorite, Cyge performs his unique solo fingerstyle "Guitar Artistry" with fascinating arrangements of music from greats like Paul Simon, Elvis, The Eagles, Steely Dan, and more.

Now this new pairing with guitarist/bassist, Steve Douglas explores the nostalgic music of the 1950's – 80's with unexpected counterpoint and instrumental harmonies.
Douglas has earned his reputation in Arizona as a much sought after upright and electric bassist, performing frequently with various regional jazz, gypsy jazz and pop music ensembles and vocalists.
He also has created a trio, 'Pop Goes Vivaldi,' for which he pens classical style arrangements for flute, cello and acoustic guitar of popular songs by artists including The Beatles, Elton John, Cat Stevens and Moody Blues.
Cyge and Douglas met several years ago and realized they shared a love of pop and rock music from the baby boomer era.

Douglas invited Cyge to perform with him at the Sedona Wine Festival, but warned Cyge that with both of their heavy performing schedules they would not be able to get together to rehearse.
They met on stage and performed a dazzling and energetic set of interpretations of their mutually loved songs. Douglas's sensitive and sharp ear for counterpoint and harmony enabled him to create the perfect counterpart to Cyge's complex and tasteful fingerstyle guitar arrangements of those songs spontaneously.
"There was quite a buzz generated through the audience and we were asked, 'How come we haven't heard of you before, and how long have you been performing together?' To which we replied, laughing, 'Oh, about two hours!' It was uncanny how many songs we both knew from that era," Cyge comments.
Cyge often incorporates a phrase sampler to record sections of his live performance, adding layers of music to the live mix. He also has created pre-recorded rhythm tracks in his home studio for some of the upbeat high energy pieces to give the performance an even fuller sound.
Douglas's acoustic six-string guitar has a built-in bank of options that can spontaneously change his steel-string acoustic into sounding like a twelve-string, a bass guitar or even a sitar! Visit www.rickcyge.com for more information.
Join the Sedona Guitar Duo as they stir up some spirited fun with their popular high-energy sound. The Grill at ShadowRock at the Sedona Hilton is located at 90 Ridge Trail in Village of Oak Creek near Sedona. For reservations and other inquiries, please call 928-284-6909.