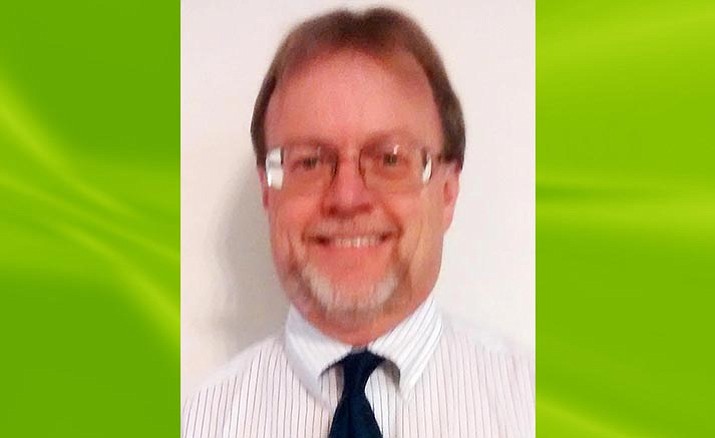 Originally Published: April 4, 2017 1:09 p.m.
CLARKDALE – Saturday, Clarkdale-Jerome School District interviewed three candidates to fill Kathleen Fleenor's seat as its next superintendent.
Following a discussion later that day in executive session, the district's governing board chose a candidate – and offered him a two-year contract.
That evening, Danny Brown, director of Federal Programs and School Improvement at Humboldt Unified School District, accepted Board President Jill Zaske's offer and contract negotiations began, said Clarkdale-Jerome board member Becky O'Banion.
For Brown, the interview process helped him see that Clarkdale-Jerome was the right place for him to continue his career.
"I felt like it was a really good fit," he said. "Not just the community but also the school's community. I'm really super excited to work with everybody for years to come."
'Great news to share'
According to O'Banion, Brown's hire, pending on negotiations and subsequent signatures on contract, is "great news to share."
"All three candidates interviewed well and interacted positively with the students and committees," said O'Banion, who also served as chairperson of the district's superintendent search committee. "But it was the overall consensus that Mr. Brown was the best fit for Clarkdale-Jerome."
Principal at Humboldt Unified's Lake View Elementary School from 2005-2010 and director of teacher preparation programs at Yavapai College from 2010-2013, Brown has a "wide variety of experience," said Fleenor, who returned to Clarkdale-Jerome school as interim superintendent in November 2016 after retiring as district superintendent earlier in the year.
According to Fleenor, Brown's experience in elementary and middle schools as an administrator and teacher as well as his experience as a Federal Programs Director "will be a great asset to the district."
"He understands the needs of smaller districts and the need to be able to wear many hats to serve the students, staff and community," Fleenor said.
Saturday interviews
Saturday's interviews consisted of candidates rotating through a tour of the Clarkdale-Jerome campus, as well as a written exercise, an interview with each of the three groups and the district governing board, and a casual lunch.
According to O'Banion, the committees each debriefed and shared their observations and outcomes with the search committee.
"The governing board then met with the search committee to review the day and the candidates," O'Banion said. "This process of face-to-face interviews was balanced with the candidates' experience, applications and references."
Thorough, inclusive process
According to O'Banion, the district's superintendent search committee "developed a process to include all stakeholders," such as the district's governing board, parents, community, and Clarkdale-Jerome certified and classified staff.
"The search committee itself [was] comprised of two board members, two certified teachers and one classified staff member," O'Banion said.
The community group included Clarkdale Police Chief Randy Taylor, Lisa Sandoval with the Yavapai-Apache Nation's Higher Education department, as well as representatives from the Town of Clarkdale, PTO, parents, business community and citizens, including a retired educator and former administrator at [Clarkdale-Jerome].
O'Banion also said that school staff was represented "by certified teachers from all levels – primary, middle school, specialty subjects – and classified personnel like front office, business management, grounds, and classroom paraprofessionals.
"Middle school ambassadors hosted the individual campus tours, escorted the candidates from interview to interview, and attended to the hospitality areas," O'Banion said. "The Search Committee also weighed in the students' input on each candidate."
Who is Danny Brown?
As Director of Federal Programs and School Improvement at Humboldt Unified School District, Brown is responsible for "a lot of grants management, a lot of grant writing," he said.
Originally from Greensburg, Indiana, Clarkdale-Jerome's new superintendent has "always been a small-town person."
"I like the close-knit community, the feel for that small-town community," said Brown. "I'm from a small farming town."
Relocated to Arizona in 1989, Brown met his wife Jennifer on the Navajo reservation while he was the assistant principal at Jeddito School. Jennifer was working at the school as its first grade teacher.
"Never thought I would meet my partner for life on the reservation," Brown said.
Brown said that "relationship building" is one of his strengths as he moves onto CJSD.
"I bring a broad knowledge base," Brown said. "I like to solve problems. Everybody needs to be involved in the decision-making process."
The CJSD board is expected to make Brown's contract official at its Tuesday, April 11 meeting.
Fleenor will continue as interim superintendent until June 30.
CJSD also names new principal
Fleenor has served as both superintendent and principal at Clarkdale-Jerome School District since she took over late last year.
But Brown will not server in the dual roles, as CJ School Vice Principal Steve Doerksen was named the school's principal on March 9.