Camp Verde girls track battles injuries, sickness
Originally Published: April 6, 2017 2:09 p.m.
SEDONA — Despite health issues, Camp Verde High girls track and field enjoyed its time at the Red Rock Invitational.
The Lady Cowboys set a number of personal records at the meet at Sedona Red Rock on Saturday, led by sophomore Eliana Paniagua, who was 12th in the Frosh/Soph 1600 in 6:22.64, a new personal best.
"We've had some season bests in some cases like Ellie Paniagua in the 1600 by about 14 seconds, which over a four lap race is a really nice jump down," said Camp Verde track and field head coach Mike O'Callaghan. "She had a good relay leg in the 4 x 4, she ran a good leg there. On the whole it's been a good day."
Eliana Paniagua finished fourth in the Frosh/Soph 800 meters, in 2:45.02. Sophomore Edith Paniagua was seventh in the Frosh/Soph 400 meters and eighth in the Frosh/Soph 200 meters in 30.34, a PR.
In the hurdles, senior Alana Neary was sixth in the 100m hurdles in 18.24, a PR and junior Bryanna Truett was eighth in the 300m hurdles in 55.12, a new personal record.
The PRs come despite the injuries and illness spread through the team.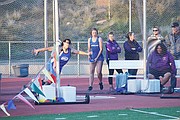 "A couple of them are getting some leg and shin problems, a little bit of that sometimes I believe is just because we've got a hard track to run on, it's dirt, but it's a real hard, packed dirt and I think that sometimes causes some issues," O'Callaghan said. "When that happens, we just go out, hit the field and go run on the grass and give them a chance to heal up. A couple of them are sick, we had one actually go home with her mom, that was sick. So something seems to be going around a bit and this is not what you want to see partway through the season."
In the discus, senior Shayla Campbell-Kilburn was sixth and in the Frosh/Soph shot put, freshman Elizabeth Crofutt was ninth. In the Frosh/Soph discus, freshman Destiny Dowdle was fifth.
Campbell-Kilburn is ranked No. 7 in the discus in the state with a mark of 97-6.
Junior Bryanna Truett took eighth in the high jump.
While the weather appeared frightful, O'Callaghan said it was a good day for a meet.
"This morning it was fairly overcast, cold but once kinda the clouds burned out and the sun came out, it was really a pretty gorgeous day," O'Callaghan said. "The wind was not bad, so yeah, it was just a nice day to be out."
Up next for the Lady Cowboys is the Westside Invitational on Saturday in Deer Valley. Their next meet in Verde Valley is the Sedona Invitational on April 18 at Sedona Red Rock.
More like this story
SUBMIT FEEDBACK
Click Below to: