Schultz ties school record, 15 Camp Verde track and field athletes set PRs
Originally Published: April 6, 2017 2:38 p.m.
SEDONA — Camp Verde High boys track and field saw 15 athletes set personal records at the Red Rock Invitational, led by junior Nate Schultz.
At Sedona Red Rock on Saturday, Schultz triple jumped 42-06.00 to tie Seth Mosley for the school record.
"Probably the most exciting one though was Nate Schultz, jumped 42'6 to tie the school record in the triple jump," said Camp Verde track and field head coach Mike O'Callaghan. "So he and Seth Mosley now have the school record and I have to admit that I would expect Nate to have it by the end of the season, definitely, because we've just been seeing him get better on a pretty consistent basis, so I would anticipate that before season's end."
Schultz took second in the triple jump at the meet. Mosley won the state championship in the long and triple jumps in the 2000s.
Schultz is third in the state in the triple jump, fourth in the long jump and third in the 300m hurdles.
He was third in the long jump with a PR of 20-06.75 and fifth in the 300m hurdles with a personal record of 43.77.
Sophomore Christopher Holdgrafer joined Schultz at the state meet with an automatic qualifying time of 16.72 in the 110m hurdles, also a PR. He won the Frosh/Soph 110 hurdles and had the third fastest time overall.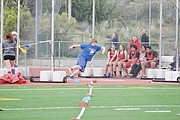 "The boys did well, they made provisional for the 4x4 relay," O'Callaghan said. "Chris Holdgrafer hit the automatic qualifier for the 110 hurdles, which he had provisional and he PRed with 16,72, he ran, so that was a good day."
Junior Blake McCrary, sophomore Brandon Cruz, sophomore Joseph Jones and Schultz ran the 4x400 meter relay.
Holdgrafer is No. 7 in the state in the 110-meter hurdles. He was third in the Frosh/Soph triple jump as well.
In the discus, junior Mathew Wade automatically qualified for state with a PR throw of 125-02, his best mark by four feet.
Sophomore Damian Wathogoma was second in the Frosh/Soph Discus.
Also, Jones recorded a PR in the 400 meters (56.94) taking seventh in the Frosh/Soph division and sixth in the Frosh/Soph 800 meters.
The Cowboys have been able to stay healthier than the girls side.
Up next for the Cowboys is the Westside Invitational on Saturday in Deer Valley. Their next meet in Verde Valley is the Sedona Invitational on April 18 at Sedona Red Rock.
"The boys are probably in better health shape than the girls are," O'Callaghan said. "Yeah, some soreness and a couple of them have little twinges but nothing in terms of flu and cold, which seems to be what's getting some of the girls down."
More like this story
SUBMIT FEEDBACK
Click Below to: