Marauders boys impress on field at Mingus Invite
'Our middle distance boys performed well, they were solid'
Originally Published: April 8, 2017 1:40 p.m.
COTTONWOOD – Mingus Union boys track and field impressed their coach in a variety of ways in their only home meet of the season.
On Friday the Marauders hosted the Mingus Invitational. Full results were not available at press time.
"The boys they had some strong performances (Friday night)," said Mingus Union track and field head coach Yancey DeVore. "Our middle distance boys performed well, they were solid."
DeVore was also impressed with the 4x100 and 4x400 relay teams at the meet, for different reasons, as well as junior Jonathan Jung and sophomore Kendrew Streck.
"Our boys 4x4 performed well and the boys 4x1 actually did a good job," DeVore said. "That was the first time that they got the stick around the track without being disqualified, so that was kind of plus for them. Jonathan Jung ran a really good 100, that was a PR for him and Kendrew Streck threw well, both shot and discus."
Chino Valley, Coronado, Dobson, Mayer, Mingus Mountain, Northland Prep, Prescott, Sedona Red Rock, Shonto Prep and Trevor Browne also competed.
Overall this season DeVore has been impressed with Jung.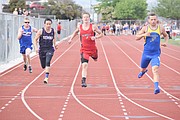 "Again, I thought Jonathan Jung performed well (Friday) and he also ran a really good 400 race for us," DeVore said. "So I've been really impressed with how's been stepping up midseason."
DeVore also said he likes how senior middle distance runners Ryan Alexander and Keegan Cain have performed this season.
The next meet for the Marauders is the Wrangler Athletic Boosters Invitational on Thursday at Wickenburg. Their next meet in Verde Valley is the Sedona Invitational on April 18, at Sedona Red Rock.
Unlike the girls side, the boys team hasn't had to deal with many major injuries.
"We don't have any major health stuff going on right now," DeVore said. "As far as the relays go, it's the right combination and trying to figure out what's the best combination and fastest guys are going to be, so it's just a work in progress."
SUBMIT FEEDBACK
Click Below to:
More like this story