Yavapai-Apache Nation planning for July opening of casino's new hotel
By
Bill Helm
|
BillHelm42
Originally Published: April 8, 2017 1:53 p.m.
CAMP VERDE – Officials at Cliff Castle Casino Hotel are looking forward to the official opening of its new six-story 122-room hotel this July.
At a cost of about $29 million, the 85,450-square-foot hotel will have an indoor pool, expanded gift shop and eventually a coffee shop, as well as an event center that "should seat 250 to 300 people comfortably" for weddings, business conferences or trade shows, says James Perry, Marketing Operations manager for Cliff Castle Casino.
When set up for an auditorium experience – meaning no tables – Perry figures that the 5,000-square-foot event center could safely handle 450-500 people.
And it divides in half, just in case two different, yet somewhat smaller groups need to meet at the same time.
"It can be used for just about anything," Perry says of the hotel's event center. "In the Verde Valley, it's one of the bigger events places now."
Including the pre-function area for folks to gather as they wait for their conference or event to begin, as well as the 300-space three-story parking garage, the total size of the project is 212,350 square feet.
A tour was recently conducted that included Perry, as well as Donald Decker, public relations director for the Yavapai-Apache Nation and editor of the Nation's newspaper; Red Wootan, the Casino's director of Gaming Operations; and Rojelio Rubio, the Casino's director of Marketing, as construction superintendent Craig Specht updated everyone on the project's progress.
The hotel's exterior is "just about done, which leaves the finish work inside of the structure," Perry says.
High-end hotel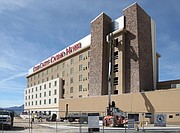 Perry says that one goal with the new hotel is to work toward "AAA, four-diamond designation."
Hotel rooms have been designed to "provide guests with a comfortable and upscale lodging experience," says Perry.
Each room will come with a DreamCatcher signature mattress, a spa-like raindance shower, Keurig coffee maker, and a media hub with a 43-inch high-definition TV and a state-of-the-art entertainment system.
For folks whose idea of luxury is big, well the hotel will also have 12 suites that sleep "the same amount of people," Perry says. "They just have more space."
And of course, room service is just a telephone call away.
Employment opportunities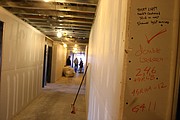 To help staff the Nation's new hotel, "over 75 new positions will be filled," Perry says.
New positions will include front desk, bell people, house people, housekeeping, room service attendants, banquet manager, banquet servers, on-call servers, banquet captain, night audit, as well as additional support staff for the food and beverage department.
"Our website also has an employment link where people can view and apply for open positions," Perry also says. "We'll [also] have a job fair at a future date."
Visit www.cliffcastlecasinohotel.com/employment for more information.
Though Perry says the 75 positions "will not necessarily all be added at once," they will be added gradually.
But a "majority will start immediately," Perry says.
The lodge
Cliff Castle Casino's original hotel, just off the street at Montezuma Castle Highway and a stone's throw from the casino, will eventually become more of a lodge experience, says Red Wootan.
The Nation has future plans to remodel the lodge and "bring it up to date," Wootan says. "With a nice, full package of new amenities."
The value lodge – with about 80 rooms – will be ideal for patrons looking for what Wootan calls a "better price point."
"And up here [in the now hotel], we'll be able to do more with the high rollers," says Wootan.
-- Follow Bill Helm on Twitter @BillHelm42
More like this story
SUBMIT FEEDBACK
Click Below to: