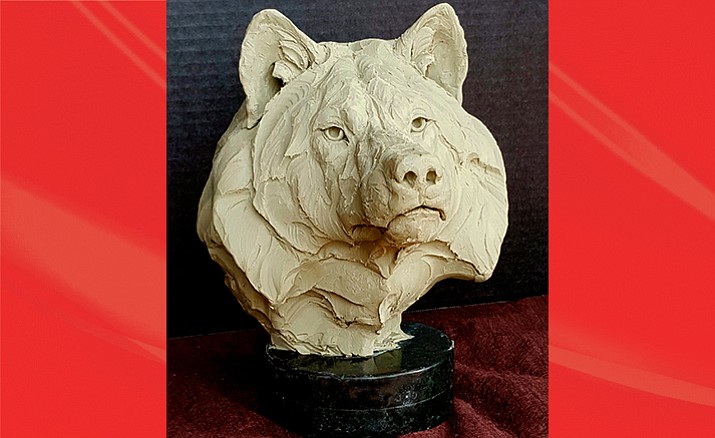 ---
---
SEDONA – Want bragging rights among your friends? Visit Rowe Fine Art Gallery on April 22 from 1:30 to 3:30 p.m. to meet a pack of wolves and wolf dogs.
This rare opportunity is part of Sedona Wolf Week 2017. A suggested minimum donation is required to meet the wolves with funds going toward Apex Protection Project, a 501(c)3 dedicated to protecting wolves and wolf dogs through education and rescue. The Apex Pack are USDA-certified travel animals used for educational purposes.
The event will also include a quick sculpt from 1:30 to 3 p.m. of one of the wolves by Ken Rowe, a renowned wildlife sculptor and owner of Rowe Fine Art Gallery.
There will also be performances by Sean "Walking Bear" Mah and Ann Vannoy as well as a silent auction featuring artwork donated by local artists including Robert Albrecht of True West Images; Shirley Eichten Albrecht of Red Rock Baskets; Martha Aaron of Sedona Mountain High Flowers; and Beth Kaminski. Rowe Gallery artists Larisa Aukon, Kim Diment, Jen Farnsworth, Lynn Heil and Liam Herbert will donate artwork to the silent auction. The big auction item of the afternoon will be "Lobo," a limited-edition bronze of a wolf bust sculpted by Ken Rowe.
The donated sculpture will be combined with a private hike with the Apex Protection Project Ambassador Pack. Additionally, four other "Lobo" bronze sculptures will be available for purchase with a portion of the sales going toward Plan B to Save Wolves, a local 501(c)3 which co-founded Sedona Wolf Week 2017 with Apex Protection Project.
As longtime supporters and advocates of wildlife, participation in this fundraising event was an easy decision for Ken. "We are honored to be a part of what has become the largest event in support of wolves in the nation, especially since it was 'born' right here in Sedona," says Ken.
Sedona Wolf Week offers a diverse program including a concert by iconic band America, speakers, films, a special children's event, performers, school presentations, fundraisers, a writing contest, a wolf co-existence panel and social interactions with the Apex Protection Project Ambassador Pack. All of this will help generate awareness of the plight of this apex predator and educate the public on the science of the wolf as well as current advocacy issues.
Sedona Wolf Week's Presenting Sponsor is Poco Diablo Resort, an enterprise of the Fort McDowell Yavapai Nation. Raphael Bear will open Wolf Week with a traditional Native American ceremony and blessing. Additional sponsors include Goldenstein Gallery, Safeway Foundation, Sedona International Film Festival, Sedona Mountain High Flowers, Sedona NOW Network and Studio 5 USA.
For a complete schedule of events and to register, please visit www.planb.foundation.com.
Rowe Fine Art Gallery
Rowe Fine Art Gallery represents traditional and contemporary southwestern artists. The gallery, located under the bell tower in Patio de las Campanas at Tlaquepaque Arts & Crafts Village, is open Sunday through Wednesday, 10 a.m. to 6 p.m., and Thursday through Saturday, 10 a.m. to 8 p.m. For more information, call 928-282-8877 or visit www.rowegallery.com.
Plan B to Save Wolves
The Plan B Foundation, Inc., is a 501c(3) corporation created to support organizations in their mission to protect, preserve and rescue wolves and wolf dogs through advocacy, education and funding. To learn more visit www.PlanB.Foundation.com or call 714.478.0353.
Apex Protection Project
A 501c(3) organization dedicated to protecting wolves and wolf dogs through educational experiences, rescue and advocacy with the dream of living in a world where the wolf and all species are highly valued, protected and respected for the balance they bring to the ecosystem and for the gifts they offer humanity. To learn more visit www.ApexProtectionProject.com.