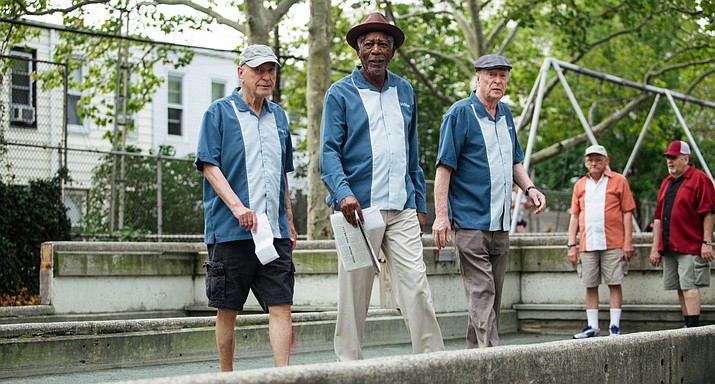 ---
---
Going in Style is a film that reminds us why we go to the movies — for entertainment. This may not be the best movie of the year, but it is far from the worst and it delivers entertainment: fun, friendship, getting the most out of life, love with our children and grandchildren and even some suspense. And there are a few surprises in the plot.
Going in Style is a remake of the 1979 film of the same name. Some of the story has been changed and I would report that some of those changes softens the impact of the film, but never mind. This version is very good.
Three elderly men, Joe (Michael Caine), Willie (Morgan Freeman) and Albert (Alan Arkin), have been close friends for most of their adult lives and live side by side in the Williamsburg section of Brooklyn in New York.
They worked at the same company for decades and are retired. That company has been acquired by a large conglomerate and, among other bad things, their pensions have been cancelled.
They were living on a meager income to begin with and now their prospects are dismal. Worst of all, Joe will not be able to make his mortgage payments and he will lose his home.
Joe goes to the Williamsburg Savings Bank to see if he can work out a plan to save his home. While he's there, three masked men burst into the bank and pull off a major robbery — several million dollars.
Joe sees the possibility of doing the same thing with Willie and Albert. They get advice on how to do such an outrageous thing from a pet and pot store owner who knows about these activities.
The three rookie outlaws go for the plan and pull it off. Their rationalization for the caper is that the pension money that has been taken by the new company is in the Williamsburg bank, and they feel entitled to repossess it. There are a few clues left behind and FBI agent Hamer (Matt Dillon) relentlessly tries to nail the three culprits. His efforts and the results are a major part of the fun here.
Meanwhile, we see Joe's relationship with his daughter and loving granddaughter, and Willie's loving contacts, by Skype, with his granddaughter.
Albert is seduced by a woman who keeps after him and finally gets him. That's Annie (Ann-Margret, still a beauty). As an aside, there is a senile older man active in charitable causes who steals every one of the few scenes he is in. That's Christopher Lloyd in a riotous performance.
Going in Style is available to you as a 90-minute pleasure that is lifted out of the mundane by all the actors whose names are mentioned here.
The three lead men, Caine, Freeman and Arkin are Oscar winners and the leading supporting players are Oscar nominees.
Going in Style is playing at Harkins Sedona 6 theater.