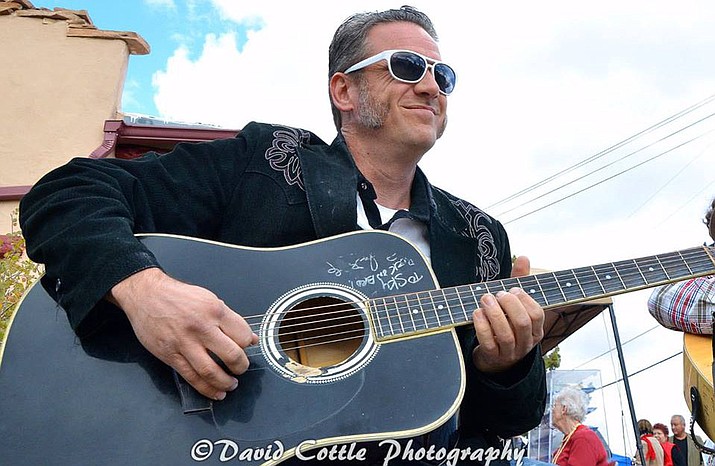 ---
---
Tommy Rocks in Jerome now hosts weekend patio concerts and this weekend's featured performer will be Sky Daddy Conwell, guitarist and vocals, Saturday, April 15, noon to 2 p.m.
Sky Daddy is a well-known rockabilly performer from Prescott.   Sky Daddy and the Pop Rocks play original rockabilly and surf music, and are well-known as being the finest rockabilly band in Arizona.
Starting out as a cover band, leader Sky "Daddy" Conwell began writing tunes in the style of the old 1950's and early 1960's rock and roll in order to avoid copyright issues while recording the compact disc, "The Two Sides of Sky Daddy & The Pop Rocks" (for sale on the website and on the patio at Tommy Rocks).
The CD has been a great success, and Sky continues to write and create new material.   His cleverly-written and unique tunes can be humorous, catchy, positive, and just plain infectious all at the same time. The best way to describe the songs is also the best way to describe the band - fun.  And nobody plays guitar like Sky; quirky, tasteful and raw, and it always puts a smile on the faces of those listening.
To learn more about Sky, check out his web site at  www.SkyDaddy.net , or better yet, come meet him in person while he performs at Tommy Rocks : Jerome's Music (Lovers') store, located at 110 Main Street, Jerome, on the lower level of the New State Building , up the street from the Spirit Room and directly across the street from Grapes restaurant. TommyRocks.com