Camp Verde municipal court room scheduled to open Monday
By
Bill Helm
|
BillHelm42
Originally Published: April 13, 2017 12:54 p.m.
CAMP VERDE – As long as most people can remember, the Town of Camp Verde's Municipal Court has met in the Town's council chambers.
On Monday, that will no longer be the case.
Workers with TSG Constructors are touching up their work on Town Hall's rooms 206-207 as they have remodeled rooms once used for the annual Fort Verde Days Arts Show into a brand new court facility.
Greg Shreeve, site superintendent and construction manager for TSG, estimated that about 40 people – contractors and sub-contractors – participated in the conversion of the building's space.
Shreeve said that minor paint touch-up, adding door stops, and clearing out a few things is all that stands in the way of the new court facility to open for business.
That, and the court's supplies and materials moving over from its current space across the parking lot.
Inspection approved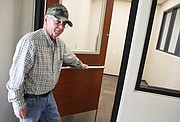 On April 10, the conversion passed final inspection, according to Town of Camp Verde Building Official Robert Foreman.
"Checked plumbing, checked electrical, checked mechanical, ingress, egress," Foreman said. "We've been doing inspections all along. We've probably done 30 or 40 inspections as construction has progressed."
Tuesday afternoon, Foreman formally presented the certificate of occupancy to both the Town's Community Development Department and court staff in the new court chambers, in room 207.
"I thought it was a community thing," Foreman said. "After all, the community paid for it. Tax dollars at work."
The cost to remodel the 2,686-square-foot portion of the building was $417,000, according to Deborah Ranney, the Town's Public Works Analyst.
Money that came from the Town's CIP – Capital Improvement Projects fund.
How it was done?
The remodel project began in late-November 2016 with asbestos abatement. Over the next several months, TSC and its various subcontractors – mostly local subcontractors, Shreeve said – then gutted the building, put in new partitions and walls, installed electric, redid the plumbing and the electric panel to accommodate for more service, mechanical, high- and low-voltage, cabinet work, put in new windows and doors, and finally the judge's podium, which includes the witness stand and seating for the judge's assistants.
Said Veronica Pineda, court supervisor administrator, the move from the old space to the brand new facility is "bittersweet."
"We've always represented ourselves in a professional way," said Pineda, who began working as court clerk with the Town while still in high school in 1997. "But we're excited to move into the new facility."
-- Follow Bill Helm on Twitter @BillHelm42
More like this story
SUBMIT FEEDBACK
Click Below to: