Camp Verde Middle School recognized as National Showcase School

By
Bill Helm
|
BillHelm42
Originally Published: April 20, 2017 12:55 p.m.
CAMP VERDE – If at first you succeed, keep succeeding.
For the second year in a row, Camp Verde Middle School was named National Showcase School for its work with the Capturing Kids Hearts Program.
Each year, the Flippen Group both recognizes and celebrates schools "that go the extra mile each day, building an environment where students and staff feel safe and connected," stated Tanya Peterson with the Flippen Group.
For Donnie Shanks, Capturing Kids Hearts means "a lot more trust between teachers and children, which makes for a better environment."
Shanks, Teen Leadership advisor at Camp Verde Middle School, has worked closely with eighth grade mathematics teacher Abbie Monroe to implement the program the past few years. Monroe and school Principal Danny Howe attended the school's first Capturing Kids Hearts training in Jan. 2014. Howe says he picked Monroe "because if anyone could sell what we're trying to do, it would be her."
After 10 minutes at the conference, Howe was convinced that Capturing Kids Hearts was just what his school needed.
"Abbie and I were [saying] 'This is it! We're taking it back! We're doing this!'" Howe said. "And the rest is history."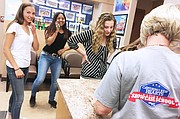 Walking the walk
When Camp Verde Middle School was recognized last year as National Showcase School, the school was one-year in on the new program. With a second year of Capturing Kids Hearts, the school is "now living it," Howe said.
Capturing Kids Hearts means an "easier way of discipline, and more respect," said Kyria Roa, an eighth grade student at Camp Verde Middle School.
"But it's a loving [form of] strict; we know what to expect," Roa said. "It helps us get along. And we take our social contract seriously."
These social contracts, Monroe said, are a "very important part of the Capturing Kids Hearts process."
At the beginning of the school year, each class creates a social contract and posts it in front of the class.
Resistant at first
Last year, Cristoph Castro thought he "may not like" Capturing Kids Hearts when Camp Verde Middle School first implemented the program.
Now a 13-year-old seventh grader, Christoph has seen a change in his life – and for the better.
"When I got in with my classmates, I saw it as a fresh start," said Cristoph. "It's helped me a lot these two years. I had a temper. If I didn't like something, I'd shut down. These lessons have helped me become the person I now am."
Out of her shell
Thanks to Capturing Kids Hearts, sixth grader Madison Morris is not as shy as she used to be. With what the 12-year-old has learned through the program, she is now able to help others who are not having a good day.
"If I see someone sad, I ask them 'What's wrong?' Or if someone is being mean to someone else, I call a foul."
Capturing Kids Hearts
The theme of the Flippen Group's program is "If you have a child's heart, you have a child's mind."
Schools across the country were considered based on: nomination based on observation; level of staff implementation of Capturing Kids' Hearts processes as measured by online surveys; perceived climate and culture of the campus as measured by staff surveys; data demonstrating Capturing Kids' Hearts has made a significant improvement in attendance, discipline, climate and culture, and/or academics; and a student survey to measure their attitude and connectedness to school.
-- Follow Bill Helm on Twitter @BillHelm42 and on Facebook at @CampVerdeBugle
More like this story
SUBMIT FEEDBACK
Click Below to: