Romanska completes Whiskey Basin 56.2 miler
By Magdalena Romanska Special to the VVN
Originally Published: April 20, 2017 1:31 p.m.
On Saturday, April 9th, Magdalena Romanska, owner of the Be Fit Fit Training Studio in VOC, completed the Whiskey Basin 56.2 Miler in the forests of Prescott. The course featured almost 12K of elevation change and featured the whole Prescott Circle trail, with the start and finish line at the Watson Lake. Out of the small group of hard-core aficionados, 55 participants finished the race, circumflexing the whole Prescott area, while 11 dropped out and DNF (did not finish). Magdalena finished in 15:32hr. She says the most challenging, yet the most meditative part was running the last hour and a half in pitch dark, while completely unfamiliar with the single track trail. The black and orange reassurance ribbons were not too frequent nor too visible at night, and the reflective ones were even less present. Both of her flashlights attracted bats and moths, so she decided to operate on the bare minimum of the head lamp and switched off the other light, which she normally uses at night.
The fastest woman, Adela Salt, completed the course in 10:19.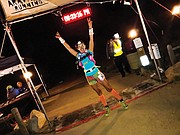 The race was organized by the Aravaipa Running team, the well-known and respected organizers of many ultra-endurance trail races in the area, including the infamous Black Canyon Ultra, which Magdalena completed in February.
As opposed to the Black canyon race, this time around, weather cooperated, providing for a cool 5AM start and a comfortable evening finish, and for some just perfect average temps, lovely clouds, some sunshine and an amazing sunrise and sunset during the day.
The next endurance event on Magdalena's list is a Grand Canyon Rim-to-Rim in May, followed by a 50 mile race in Grand canyon a week later and the 50 miler in Bryce Canyon in mid-June.
More like this story
SUBMIT FEEDBACK
Click Below to: