Schultz sets school record in triple jump at Sedona
Originally Published: April 20, 2017 1:46 p.m.
SEDONA — With the Camp Verde High triple jump record his, junior Nate Schultz is now focused on winning state.
Schultz led the way for Camp Verde track and field on Tuesday at the Sedona Invitational as the Cowboys racked up a bunch of personal records.
He won the triple jump with a school record 43-07.00.
"It's probably the best meet we've had, performance wise," said Camp Verde track and field head coach Mike O'Callaghan. "First off, Nate Schultz set a new school record in the triple jump 43-07, beating the old record by a foot and an inch. He's been gearing for that ever since he tied it, to get it, to set it and so he was just ecstatic (Tuesday) night when he got it and so was the rest of the group."
On April Fools Day, Schultz tied state champion Seth Mosley's mark of 42-06.00.
"It feels good, definitely, but I also got to realize that there's better jumpers out there, still two guys ranked above me and I gotta keep working my best at it," Schultz said.
He said he saw breaking the school's record more as setting a new personal record.
After the meet a Cowboy athlete from another event asked O'Callaghan if Schultz had beaten the record.
Earlier in the day Schultz took fourth in the long jump with a leap of 20-02.25.
"Well for long jump it was rough because I scratched three jumps that would have PRed me by a lot but I still ended up getting fourth," Schultz said.
Then later in the evening, Schultz out dueled long jump winner and friend Joe Glomski to win the triple jump. It was Glomski's first loss in the triple jump this year.
"We tend to give each other advice and we're good friends and so he taught me how to jump and his coach pitched in a little," Schultz said. "It's new to me, I've never had a friend like that on another team because I normally don't socialize with other teams but he's a good guy and his girlfriend goes to our school so I know him through that."
On the track, Schultz finished fifth in the 300m with a PR time of 43.43.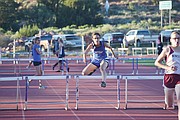 The girls' 4x800 relay team of Eliana Paniagua, Chaeli Hoehn, Bryanna Truett and Edith Paniagua finished fourth in 11:16.41, a personal record.
"Girls 4x8 dropped 26 seconds from their previous best time," O'Callaghan said. "Just a tremendous run by all of them it was the first time this year all the girls ran under three minutes for their leg of the relay, so they're psyched about that."
Eliana Paniagua set a PR in the 400 meters (1:07.64) and her sister Edith Paniagua set a personal best in the 800 meters, 2:56.08.
The boys 4x400 relay team, dropped 10 seconds off their best time, even though freshman Steven Moore had to fill in.
"I give Stehen Moore a lot of credit because one of the kids got hurt couldn't run and he stepped in there and ran a really nice leg, better than I think that we had expected and I'm really, really pleased for him, that he was able to step up like that on pretty much short notice,"
Sophomore Christopher Holdgrafer won the Frosh/Soph 110m hurdles with 16.68, good enough for fourth overall, won the Frosh/Soph triple jump and long jump with a PR and took first in the 300m hurdles, also getting a personal best.
Senior Shayla Campbell-Kilburn took second in the discus and junior Bryanna Truett was fourth in the high jump. Sophomore Chaeli Hoehn took third in the Frosh/Soph triple jump, setting a PR.
The Cowboys have set a number of personal and season bests the last two weeks as the season winds down.
"We're on schedule in that sense," O'Callaghan said.
O'Callaghan said they are looking at sending three more girls and four, maybe five boys to state than what they expected.
"That's nice, it's nice to see the kids come to the end of the year on a high note like that," O'Callaghan said.
Provisional qualifiers will try to solidify their spots at the state meet at the Last Knight Qualifier on Tuesday at Westview in Avondale.
The last meet for most of the Cowboys will be the Winslow Invite Friday morning at Winslow, a change in the schedule because Saturday is prom.
"It's a morning meet, so we won't get them home late and so they can get rested and ready for prom and have a good time," O'Callaghan said.
SUBMIT FEEDBACK
Click Below to:
More like this story