Commentary: Keegan should be retained exclusively as school district consolidation consultant
Originally Published: April 22, 2017 10:47 a.m.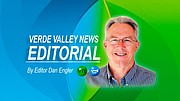 When Andy Groseta embarked on this latest school district unification effort, he said we had a unique window of opportunity to make it happen this time.
The "opportunity" was the fact that all three of the Upper Verde districts – Mingus Union, Cottonwood-Oak Creek and Clarkdale-Jerome – were experiencing a simultaneous changing of the guard with their superintendents.
That concept blew up in Groseta's face as each of the districts quickly decided upon their successor superintendents. A cynic would say they did so specifically to not let the roots of consolidation/unification take hold.
What Groseta did not realize at the time was the real consolidation opportunity was staring him right in the face.
It was obvious at Wednesday's Mingus Union School Board meeting that interim MUHS Superintendent Dr. Jack Keegan is well-versed on the pros and cons of consolidation/unification as well as the political land mines involved in the process. The real silver lining in having Keegan do the fact-finding leg work on this latest effort is that he does not have a dog in the fight.
In the many years the community has gone to the altar on this possible marriage of the Upper Verde school districts, local superintendents have been placed in no-win situations when asked to lead fact-finding missions on consolidation/unification. Any conclusions they reached were subject to criticism on claims of turf protection or that they might be trying to position themselves to be in line to become superintendent of a unified district.
What is so great about having Keegan direct these fact-finding missions is that he doesn't want the job, he doesn't have a staff whose jobs he might want to protect and he probably does not care about the outcome. His only priority is giving accurate information and sound advice.
He has no ties or loyalty to the community; certainly no vested interest in the outcome. When Keegan took this current interim assignment, "I knew absolutely nothing about Mingus and didn't know where Cottonwood was other than it was near Sedona," he said.
This is the third time the retired superintendent has taken on an interim assignment at a school district in-between superintendents. He's one of those guys who's retired, but still likes to work and is in a position to decide exactly how long he will work when so inclined.
With six decades in the education business, Keegan most definitely has been around the block. There's not much he has not seen. He says consolidation/unification efforts are most often driven by fiscal necessity and are always political hot potatoes.
He said Verde Valley consolidation dynamics are unique in that they do not involve an already unified district. He said what you most commonly see in district mergers would be a situation where an elementary district such as Beaver Creek would be combined with the Camp Verde Unified District.
"What makes you different is that the districts are elementary only and high school only," said Keegan. "That's what makes this situation here so unique."
Notice Keegan's use of the word "you" in the observation above. He's clearly an outsider to the community, with no stake in the outcome. What he brings to the table, though, is a wealth of knowledge and strong acumen for research (he does credit his executive assistant, Brandi Bateman, for much of the work involved in compiling the comprehensive consolidation/unification report presented to the Mingus board last week).
Keegan's temporary assignment with Mingus is scheduled to end June 30. That's when new superintendents will take over not only at Mingus, but at Cottonwood-Oak Creek and Clarkdale-Jerome as well.
It's unlikely any of these school boards will be ready or willing to take a stand one way or the other on this political hot potato by then. As is the wont of those involved in the education business, they'll likely still be in the fact-finding phase. They'll still be researching, doing their homework and mostly agonizing over having to eventually make a decision.
The last thing they should do is dump such work into the lap of their new superintendents. That's an absolute no-win situation.
No, what the three (most likely two) school boards will need for such research and guidance is someone who's been around the block a few times and is not aligned with any of the local school districts.
They'll need someone just like Jack Keegan. He will be done with his Mingus obligations by then. He has no particular loyalty to any school district in the Upper Verde. He doesn't have a dog in the fight and not subject to the political fallout of calling it like he sees it. He would be the perfect person for the member school districts to retain as a consultant to deal exclusively with consolidation/unification.
He provides what Andy Groseta would call a perfect opportunity.

More like this story
SUBMIT FEEDBACK
Click Below to: