40-pound snapper turtle found at Montezuma Well (with video)
Reptile indigenous to eastern United States found in monument's irrigation ditch
By
Bill Helm
|
BillHelm42
Originally Published: April 25, 2017 12:34 p.m.
RIMROCK – He doesn't have a name yet, but the snapper turtle found on April 13 at Montezuma Well National Monument is now at his new home in the Phoenix Zoo.
According to Linda Hardwick, the Zoo's director of communications, the 40-pound Chelydra Serpentina has taken a dive to the bottom of the lake in the Wetlands Exhibit where he will likely "stay for quite a while."
Perhaps the newest member to the Zoo's family is desperately in search of moisture, as this snapper turtle is believed to be from the continent's eastern region – from southern Canada to Florida – says Jeff Lovich, research ecologist for the U.S. Geological Survey's Southwest Biological Science Center in Flagstaff.
Though turtles are aquatic, at some point the snapper turtle will come back to the lake's shore.
"In that habitat, we have several alligators," she says. "And we've had a Florida Softshell [turtle] there for a while. They give her biscuits during alligator feedings. After a while, we expect him to adapt. But for now, he's at the bottom of the lake."
Cross-country turtle trek
Nobody at USGS knows precisely how long the 40-pound snapper turtle was at Montezuma Well before a volunteer spotted him in the well's ditch about two weeks ago.
Later that fateful day, P.J. Madara-Yagla, law enforcement park ranger serving Montezuma Well, Montezuma Castle and Tuzigoot national monuments, helped the turtle out of the ditch.
"One of the visitors in the park retrieved the base of a trash can for us, so we could carry it safely," Madara-Yagla says. "Then we carried it back to the contact station."
Though not certain whether it was the same turtle which had also been spotted at Wet Beaver Creek, Madara-Yagla believes it is the same because of the size comparison.
Cross-state turtle trek
The next day, the turtle was back on the road, thanks to Charles Drost, research zoologist for U.S.G.S.'s Southwest Biological Science Center.
Drost drove the turtle to the science center office in Flagstaff.
"It is a singularly impressive animal," Drost says. "But this big fellow is surprisingly easy to handle."
Until it almost crawled out of its temporary storage container with Drost hustling north on I-17 at more than 70 miles an hour.
"I didn't think he would be able to climb out of that bin, but at one point he did manage to get his front legs, head, and the front part of his body up out of the bin," Drost says. "And there I was, driving along the interstate trying to coax this 40-pound turtle, with his head and jaws craning towards me, back down into the bin."
Eventually, Drost was able to stop his vehicle on the interstate's shoulder, then secure the turtle back in his travel seat.
A new home
Looking for a new home for the transplanted terrapin, U.S.G.S. expanded its partnership to include Cristina Jones, who is in charge of the Desert Turtles branch of the Arizona Game and Fish Department.
Jones then partnered with the Phoenix Zoo, which agreed to adopt the snapper.
Brent Sigafus, biologist, Pacific Region Firearms Safety Manager and Collateral Duty Safety Program Coordinator for the U.S.G.S. Southwest Biological Science Center in Tucson, escorted the snapper from Flagstaff to the Phoenix Zoo on April 19.
Without complication, and without exciting story to tell, the turtle was at his new home by 4 p.m. that day.
"He sat in a tote on the back seat," Sigafus says. "He didn't do anything."
Drew Foster, animal curator at the Phoenix Zoo, confirmed that the turtle is male. But Foster is not sure how old the Zoo's newest edition is.
"He's easily 20 years old," says Foster, who says reptiles have been his "passion" since he was a small child. "He could be much older than that."
Snapper turtles, Foster says, are "long-lived animals, easily reach[ing] greater than 100 years."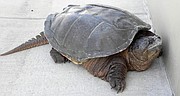 Making himself at home
Cristina Jones has had a "long working relationship with the Phoenix Zoo."
Jones, Turtles Project coordinator with the Arizona Game and Fish Department, recalls Zoo staff a few years back expressing interest in "add[ing] snapper turtles to the zoo."
The Zoo, with its Wetlands Exhibit, can offer a "large body of water" for animals like the new snapper, Foster says.
"We did this to provide the animal with a good home, more than providing the zoo with a good exhibit," Foster says.
Though the Phoenix Zoo is pleased to have a new resident, Foster says this situation could have been avoided.
"Oftentimes people get a pet turtle, the turtle grows, and it becomes challenging," Foster says. "Then they let it go. That's not the right thing. It does more damage to the environment."
-- Follow Bill Helm on Twitter @BillHelm42
Video shot by Robert Manuel Estrada, courtesy of National Park Service.
Seven species of the shelled reptile live in Arizona, but none is the snapper turtle found at Montezuma Well
RIMROCK – A couple weeks back, volunteers and staff at Montezuma Well National Monument found what turned out to be a Chelydra Serpentina in the irrigation ditch at the Well's outlet.
The snapper turtle, as it is more commonly known, does not belong in the Well. Truth is, it also doesn't belong west of the Rocky Mountains, says Jeff Lovich of the U.S. Geological Survey.
Lovich knows a fair amount about tortoises. He's been studying them for the past 30 years.
As research ecologist for the U.S.G.S.'s Southwest Biological Science Center in Flagstaff, Lovich has named four different species of reptiles of the order Testudines, three here in the states.
"There's a lot we can discover right here in our back yard," Lovich says.
Such as where the turtle may have come from.
Tortoises, turtles, terrapins
In a 2010 USGS report titled "Removal of Nonnative Slider Turtles and Effects on Native Sonora Mud Turtles at Montezuma Well, the only native turtle at the Well is the Sonora mud turtle – also known as Kinosternon sonoriense.
Common snapping turtles are turtles, not tortoises, says Lovich, one of four authors of the report, which was created in partnership with the U.S. Department of the Interior.
All tortoises are turtles. But not all turtles are tortoises.
Says Lovich, there are 14 living families of turtles. But only one contains animals typically referred to as tortoises.
"Any animal with a shell and a backbone is a turtle, so a tortoise is a turtle, just like foxes are dogs and lynx are cats," Lovich says.
With anatomical features "slightly different from other turtles," tortoises tend to live in drier environments.
One reason why all tortoises are turtles, but not all turtles are tortoises.
"Depending on where in the world you live, people also call turtles tortoises and terrapins too, the latter a Virginia Algonquian Native American name for turtle."
Tortoises vs. turtles: similar – yet different
Says Cristina Jones, Turtles Project coordinator with the Arizona Game and Fish Department, folks who find a turtle often want to know what it is and whom to call.
Arizona is home to four native aquatic turtle species: three species of mud turtles (Arizona, Sonora and yellow) and one species of painted turtle, and three native terrestrial turtle species (Sonoran desert tortoise, Mojave Desert tortoise, and ornate box turtle).
With the red-eared slider, snapping turtle and spiny softshell, Arizona is also home to "three established nonnative turtle aquatic species," Jones says.
"With the popularity of turtles in captivity, including the desert tortoise, escaped captive chelonians – both native and nonnative – are increasingly found wandering neighborhoods and sometimes even natural desert areas," Jones says.
Arizona Game and Fish Department has created an online identification guide to the state's common captive turtles: www.azgfd.gov/turtleID.
Across the divide
For the 40-pound turtle to have found its way to the southwest, he would have needed human intervention, Lovich says.
Lovich counts seven species of turtles in Arizona. The turtle found at Montezuma Well is not one of the seven.
"There are some hints that the animal may have been kept in captivity," he says. "Someone had to have taken it there."
This type of snapper turtle is more commonly found in the continent's east, ranging from as far north as southern Canada to as south as Florida.
"They don't get across the continental divide," Lovich says.
Lovich says that enlarged scales – known as scutes – were found on its shell, which could suggest that the turtle had been kept in shallow water.
Lovich also says it's possible that there are more of these snapper turtles at Wet Beaver Creek or at the Verde River.
More like this story
SUBMIT FEEDBACK
Click Below to: