Camp Verde softball takes region, eyes another state run
Cowboys open state tournament on Friday in Phoenix, seeking a return to the championship game
Originally Published: April 27, 2017 2:09 p.m.
Camp Verde High softball beat Northland Prep 8-2 on Tuesday to clinch the Central Region and win their ninth straight.
After going behind 1-0 in the third inning, the No. 3 Cowboys scored eight runs. After the No. 17 Spartans scored again in the sixth inning, Camp Verde scored three more in the home half of sixth to put the game out of reach.
"It was tough, the wind made it tough for everybody to get solid hits but overall I think we hit pretty well," said Camp Verde head coach Henry Smith. "We played heads up, they gave us plenty of different looks, different situations and we were able to shut them down every time and we had little of trouble throwing the ball around, but we were still able to come back and make up for those errors and mistakes. So I'm pretty excited to go into the tournament."
Although the bracket for the 2A state tournament wasn't available at press time, the win also likely secured a top four seed for Camp Verde in the tournament that starts on Friday.
The Cowboys open up the playoffs at 5:30 or 7:30 p.m. at Rose Mofford Softball Complex in Phoenix. The tournament is 16 teams.
Senior Tiauna Day led the way for Camp Verde against Northland Prep, going 3-for-4 with an RBI and run. Junior Jade Oium hit a home run, freshman Jacy Finley had a stand up double that hit the fence on the windy day and Day also had a double.
In the circle, Finley gave up 3 hits, 1 earned run, struck out 8 and walked 2 in 7 innings to get the senior day win.
"I think it went well we definitely could've cut down on the mistakes but I think that was all just nerves since it was a big game, it was the last game for the season on this field,"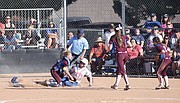 said senior Kayla Hackett.
Although they lost players like their 2016 ace Taya Smith, Camp Verde will look to return to the state championship game.
They've also won 12 of their last 13.
"I think we're playing really well like we've definitely improved a lot from the beginning of the year and we've just been working hard on kind of refining our line up and our defense and to the point where we're headed to state where that's our goal," Hackett said.
Smith said he isn't worried about the youth of the team, like having a freshman, Finley as the new ace.
"I think everybody, regardless if they're freshman, junior, senior, all of the players deal with nerves and anxiety I think between our coaching staff and some of the older players that have experienced this before, we'll be alright and although we have some younger players, they've still played in some big games, nothing like high school or state tournament but have experience playing offseason, playing club ball," Smith said. "They're excited, nobody's talking about being nervous, they're all talking about getting excited and ready to play we we should be good to go."
Hackett said the 2017 Cowboys compare well to last year's side.
"We just need the motivation and the drive and we're going to go far I think," Hackett said.
More like this story
SUBMIT FEEDBACK
Click Below to: