Chilton advances to second day of state singles tourney
Mingus Union's makeshift doubles team of Williams and Yang wins match after illness forces singles No. 1 out
Originally Published: April 27, 2017 2:27 p.m.
Mingus Union girls tennis' trip to the state tournaments didn't go as planned but they nonetheless impressed head coach Andrea Meyer.
Mingus' singles No. 1, junior Talon Whiteley fell ill and alternate, junior Pei-Wen Yang had to fill in for her in the Division II doubles tournament at Phoenix Tennis Center.
"Luckily Pei-Wen was along and she did a very good job, especially in the first match," Meyer said.
Whiteley has played with her doubles partner junior Emma Williams a long time but the new and temporary Yang/Williams team actually won a match, beating Phoenix St. Mary's 6-0, 6-3.
"Pei-Wen had some feelings of not being sure that she was the right person to be on the court and Pei-Wen is very humble but in the end as I told her 'your name is on the draw, you're the best player we have at this moment' and I encouraged her to go forward and hit decisively and play her game," Meyer said.
They lost in the second round to Pricilla Peralta-Rodriguez/Angelika Garcia Maldonado of Tucson Cholla 6-4, 6-2 in a match Meyer thought they should have been able to win.
"It was disappointing that they didn't beat that Cholla team," Meyer said. "I think our girls got down a little bit, a little bit uncertain about their shots and then Cholla got more confident about their net play and their serving."
In singles, senior Phoebe Chilton became the first Marauder in years to advance to the second day of competition.
"Phoebe did very well," Meyer said. "Phoebe got an auspicious draw, which is nice because recently Mingus has gotten a really tough draw in the beginning but Phoebe got a nice favorable draw and she made the most of it. She did very well and did well in all three matches."
Chilton opened with a 6-2, 6-0 win over Bradshaw Mountain. Then she beat Tucson Sahuaro's entrant 6-3, 6-3. She fell in the third round however to Emily Lopez of Tucson Amphitheater 6-0, 6-0.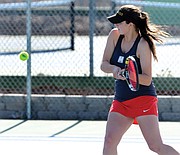 "Phoebe did very, very well," Meyer said. "She played confidently, she kept pace on the ball, so I'm very pleased with the way Phoebe did in the tournament. In the third round, on the second day, the Amphi girl, seeded number four, just had skills that and experience that Phoebe just hasn't had yet."
Although the heat wasn't as pronounced as last year, Meyer said that is a factor for players from cooler parts of the state.
"You can see it, when you have been down to the state tournament long enough, you can see the girls from Northern Arizona and the mountain towns really are not acclimated to that heat," Meyer said.
Boys bow out at state
Mingus Union's boys tennis entrants into the Division II state individual tournaments both fell in the first round.
Sophomores Jordan Finger and Brigham Peterson's doubles team lost 6-4, 6-3 to Tempe McClintock.
Junior Nick Ruggiero lost 6-0, 6-0 to Tucson Sahuaro's Kemuel Redlin.
SUBMIT FEEDBACK
Click Below to:
More like this story