Marauder softball returns to state after four-year absence
Originally Published: April 27, 2017 2 p.m.
Mingus Union softball is set to return to the state tournament for the first time since 2013 after going 6-20-1 last year.
The bracket was not available at press time, but the No. 12 Marauders (20-9, 9-3 Grand Canyon) appear to be comfortably in the 16-team 4A field.
"I think it means a lot, it's a testament to what we started out saying we could do, that we had the team to get there and we're here so I think it just shows that we are the team we thought we were," said Mingus Union head coach John Brown.
Without playing many power points games to end the season, Mingus slipped out of the top 10 in the rankings. Their only instate games since April 11 was a double header at Lee Williams that they won 13-4 and 8-1.
Brown thinks they're more like the sixth to eight best team in the state but they deserve their spot because they lost some games they shouldn't have.
Mingus won the state championship in 1981 and 1995
Brown expects to face either No. 5 Salpointe Catholic (19-8, 6-2 Kino) or No. 6 Pueblo (21-2, 7-1 Gila) in the first round on Saturday at 10:15 a.m. in Tucson. Salpointe finished second in the region to No. 1 Canyon Del Oro, while Pueblo won theirs.
Both of those schools, which are in Tucson, are new to the 4A level. Last year Salpointe played in what was basically 5A and Pueblo is probably a familiar name to Verde Valley softball enthusiasts.
In 2016 No. 5 Pueblo upset No. 2 Camp Verde in the Division IV state championship game. This year however, the alignment went back to being based on enrollment.
During the downtime from games in Arizona, Mingus Union prepped for the state tournament by finished second in the silver bracket at the Spring Jamboree Vegas in Las Vegas.
While Salpointe is 215 miles from Mingus Union according to Google Maps, Brown said the travel won't phase the Marauders.
"We're absolutely used to traveling and playing in one game wonders for tournament ball," Brown said. "I think we're ready for it, we're already adapted, we got hotels, we're going to go down the night before and practice down there We're taking it very serious, we're not going to get up early in the morning and hope that we can compete, so we're ready."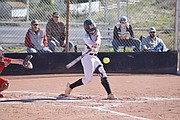 Mingus Union hasn't played Salpointe or Pueblo, something Brown thinks will help the Marauders.
"I'm sure when we get there we'll notice and recognize some players from Tucson," Brown said. "Tucson has a lot of travel programs but I think it's great because not only we haven't seen them but they haven't seen us and so it's going to be a one game wonder and anybody can win and I feel like we are at our best when the other team doesn't know us and I think we overcome a lot of things from another team when we don't know them so I think it's a good fit for us I'd rather play somebody we don't know than play somebody that we've played three times."
The break lull in the schedule helped the Marauders try and plan for a future with out sophomore utility player and captain Maddie Bejarano, who has a shoulder injury. She is batting .636, has an on base percentage of .692, 39 RBIs and 48 runs.
"She's our lead off hitter, hits the crap out of the ball, she runs the bases, she's got 27 stolen bases, she's an impact player for us," Brown said. "So if she's not able to do anything, it's definitely going to hurt us a little bit but we've been practicing without her all week hoping that she can heal up so we'll see."
SUBMIT FEEDBACK
Click Below to:
More like this story