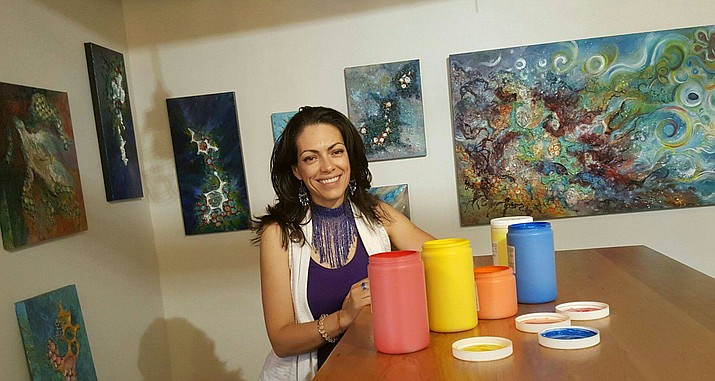 ---
---
The Collective Sedona is proud to announce that a new art gallery has opened by visionary artist, Eugenia Ortiz. The Eugenia Ortiz Art gallery is located on the first floor, off the center courtyard, and directly behind the Magic Mandala Kaleidoscope Gallery. 
Eugenia, a Kansas City resident and Los Angeles artist, was lured by Sedona's rich creative culture. She is joined by her assistant, Chester White, who will share in her responsibilities managing the Gallery. Eugenia plans to celebrate with a grand opening party on September 9th. In the meantime, visitors can tour the beautiful gallery filled with mixed media paintings and 3D glasses (for enhanced viewing). 
Eugenia enjoys exploring emotions and life experiences using color and texture in her sculptures and mixed media paintings. She creates some of her works using silk, cotton, paper, eggshells and other natural fibers.  "My art engages the individual with colors, patterns, and interplay between the form and formless," says Eugenia. "As both the creator and conduit for the energy flowing through the artwork, the end result resonates at an emotional, mental and spiritual level." Stay tuned for more details on the grand opening celebration. For more information visit www.EugeniaOrtizArt.com.
Other exciting events happening this month at The Collective Sedona include the bi-weekly indoor farmer's market happening on August 9th and 23rd inside the blue "Collective Marketplace" building from 2-7 PM. Shoppers can expect an abundance of fresh produce and flowers by Da' Nede' Farms along with farm fresh eggs, Sedona Lavender Farm's culinary spices and teas, fresh and local vegetables and fruit, all natural beef, local honey, cheeses, gourmet baked goods, homemade jellies and sauces, breads, dog treats and many other food offerings from Arizona local vendors.

On August 12th, The Collective Sedona will be hosting their monthly Second Saturday Art Walk from 5 – 8pm. The Second Saturday Art Walk event features artwork on display and for sale by local artists, live art demonstrations and live music. Individual shop owners will be open late that evening serving an assortment of refreshments and snacks along with special discounts. Vendors will be on hand offering chair massage, aura readings and more! The fun-filled evening is capped off with door prize drawings.
Visitors are invited to attend a Shakti Naam Yoga class on Thursday, August 17th from 5 to 7pm upstairs in Vista Hall. The class focuses on chanting, dynamic movement and heart opening wisdom. With an eclectic mix of shops, a convenient location, incredible views, celebration of arts and culture, promotion of health and wellness and a genuine investment in the community and its residents, The Collective Sedona is a world-class destination in the most beautiful place on Earth.
About The Collective Sedona
The Collective Sedona, a 54,000-square foot mixed-used development located on 6.15 acres, is Sedona's premier shopping, dining and entertainment destination. Conveniently located at the gateway to Sedona in the Village of Oak Creek, the property features an eclectic mix of shops, galleries, restaurants from casual to fine dining, a Welcome Center, luxury spa and salt room, an indoor/outdoor multi-use banquet facility, a community bank/ATM and weekly community events. For more information, visit TheCollectiveSedona.com.