New businesses pop up around Cottonwood
Originally Published: August 10, 2017 12:28 p.m.
COTTONWOOD – New businesses have opened in Cottonwood recently, and more will be opening their doors in the near future.
Here are a few new places on the radar:
Muse Bistro
Where: 735 N. Main St., in Cottonwood
Hours: Tuesday through Saturday: 11:30 a.m. - 2:30 p.m., and 5 p.m. – 8 p.m. Closed Sunday and Monday.
Specialty: New Orleans-style cuisine, local wine and beer, and live music.
For more info: http://www.themusebistro.com or call 928-649-1735.
*Note – Uses and serves locally-grown and organic ingredients
Rawr Bakery
Where: 333 N 16th St. #20, in Cottonwood
Hours: N/A
Specialty: A gluten free and vegan based bakery.
For more info: http://rawrbakery.com
*Note – The bakery is expected to open early September at the former Greek Café location
Accessible Wellness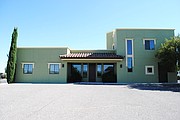 Where: 708 Cove Pkwy., in Cottonwood
Hours: By appointment only
Specialty: A wellness center promoting healthy lifestyles with PEMF-biofeedback, IV nutrition, hypnosis, and Reiki.
For more info: http://awellness.org or call 928-203-6757
*Note: PEMF stands for pulsed electromagnetic field which uses a biofeedback machine
SUBMIT FEEDBACK
Click Below to:
More like this story