COMMENTARY: Next weekend the big leagues will get a bit littler
Originally Published: August 17, 2017 12:20 p.m.
From August 25 to 27, Major League Baseball will loosen up its uniform restrictions and its players will wear special bright colored gear like little leaguers for "Players Weekend."
The hats will feature brighter than normal colors and in many cases alternate logos, like the snake head on the Diamondbacks' cap, with a brighter red instead of Sedona Red.
Instead of the normal button down jerseys, they will be pullovers and the sleeves will be a different color than the torso. Most of the jerseys will be colored as well, with only six of them being white or gray.
In place of their last names, players can have nicknames, like "GOLDY" for Paul Goldschmidt, "JOEY BATS" for Jose Bautista,"COREY'S BROTHER" for Kyle Seager, "CARL'S JR" for Carl Edwards Jr., "ALL RISE" for Aaron Judge and "A-A-RON" for Aaron Hicks. If you don't know "A-A-RON," you done messed up, but you can Google that Key & Peele sketch.
On the jersey's sleeves is a space for the players to write the name of someone they want to thank. The gear features a logo where the Little League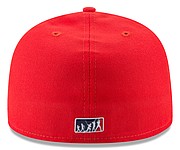 batting logo morphs into the MLB emblem.
The players will also get to use flashy equipment and will get the chance to show their support for their favorite charity. While you can buy the gear in the MLB Shop, they will also auction off the jerseys with the proceeds going to the MLB-MLBPA Youth Development Foundation.
The MLB and Little League festivities will kick off with the MLB Little League Classic when the Pittsburgh Pirates play the St. Louis Cardinals on Sunday at 4 p.m. on ESPN in Williamsport, Penn., home of the Majors Little League World Series. During the day the major leaguers will go to Little League games and then at night the kids and their families will see the MLB game.
The Pirates/Cardinals game will be at BB&T Ballpark at Historic Bowman Field, the second oldest minor league ballpark in the country. It opened in 1926.
It's not as cool as the game they played at Fort Bragg last year (although I might be biased because my dad was stationed there) but it certainly sounds fun.
The whole weekend sounds fun and I have really had zero interest in Little League since I was a kid, other than seeing the funny things the kids say in their ESPN questionnaires. The best this year was Ben Deibler of Vermont's that said "has a crush on his teacher (Sup Mrs. Stevens?)."
The people who don't seem to like the Players Weekend can't seem to explain why it's bad without looking like someone who as a kid reminded the teacher she forgot to assign homework.
True, some of the nicknames are kind of lame but you can't force a nickname.
Some of the design choices are odd, like replacing Sedona Red with adjust your television red (what about teal?) but overall the designs are fun.
Baseball is lagging in popularity behind football, soccer and basketball among young people and so they ought to try and be more hip. If they went crazy and changed things dramatically to get more millennials and generation z kids, then they would lose fans from their base.
The cranky people who hate "softball uniforms" and burn the New Era logos off their hats seem to forget that when they were kids major leaguers wore all red, all powder blue, all yellow or Tequila Sunrise uniforms.
You'll never be a kid again but choosing to focus on fun instead of tradition, at least for a weekend, could make you feel young again.
More like this story
SUBMIT FEEDBACK
Click Below to: