YCSO K9 deputy locates 40 pounds of pot inside motorhome
Originally Published: August 17, 2017 4:09 p.m.
ASH FORK – A Florida man was arrested Aug. 15 on numerous charges after a Yavapai County Sheriff's Office K9 deputy located 40 pounds of marijuana inside the hidden compartment of a motorhome during a consented search in Ash Fork.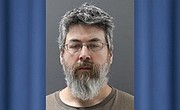 Isaac James Brown, 45, was charged with transportation of marijuana for sale; possession of marijuana for sale; and possession of marijuana and drug paraphernalia, according to a YCSO news release.
He was booked at the Camp Verde Detention Center and remains in-custody on a $40,000 bond.
Around 8 a.m. that morning, a YCSO K9 deputy stopped a 2000 model year Fleetwood Jamboree motorhome for equipment violations on I-40 East in Ash Fork.
During a conversation about the violations, "Brown was noticeably more nervous than the average driver and shared conflicting information regarding his travel itinerary," stated the release.
Based on the K9 deputy's training and experience, he determined the likelihood Brown's vehicle contained contraband and requested consent to search, said YCSO.
Brown permitted the search.
During a check of the motorhome's interior, the deputy initially found a 'Coca Cola Hide-a-Can' with the strong odor of marijuana.

In the main bedroom of the motorhome, the deputy lifted the foot of the bed and immediately detected an odor of marijuana, according to the release.
A storage area with a false bottom was then discovered. With the false cover removed, the deputy saw numerous food saver bags containing marijuana determined at 40 pounds in weight.
Brown denied knowledge of the marijuana in the motorhome that he owns.

More like this story
SUBMIT FEEDBACK
Click Below to: