Camp Verde football rolls in scrimmage
'I think we did as expected'
Originally Published: August 19, 2017 3:22 p.m.
Camp Verde High football rolled in its scrimmage on Friday night.
The Cowboys moved the ball up the field methodically and with long passes and long runs and stymied Scottsdale Prep's offense.
"I think we did pretty well," said Camp Verde head coach Jerome Rhoades. "We executed pretty well. We definitely have some areas that we need to shore up, defensive secondary and the offensive line, we need a lot of work there."
The scrimmage lasted about 45 minutes and the teams alternated possessions based on a set number of plays, with Camp Verde scoring multiple touchdowns before it was time for the Spartans to get the ball.
"I thought we did pretty good, fundamentally we did good, we just looked good," said Camp Verde junior Dominiq Bruno.
The Arizona Republic has Scottsdale Prep as the No. 6 team in their 2A preseason rankings.
Rhoades' predictions before the scrimmage proved prophetic.
"I think we did as expected, as coach told us we were going to do," said Camp Verde senior quarterback Payton Sarkesian. "He literally predicted the whole game, he was like 'this is what we're going to do, we're going to go out there and execute and if everybody executes then this is what's going to happen' and it's exactly what happened."
Rhoades said some of the success was good execution and some was luck.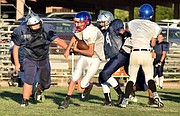 "We've been working really hard and moving the football and we just had some really good luck (Friday) night," Rhoades said. "We put some things in defensively to kinda stop that inside zone run play that they had and we had pretty good success with it."
Backup quarterback Kolby Hedges shocked the Cowboys and Spartans alike when he shredded the Scottsdale Prep defense with his running ability, scrambling for dozens of yards.
"It surprised me because at practice he doesn't really show that," Sarkesian said.
Rhoades the freshmen have really impressed him.
"We had two freshmen starting on the defensive line," Rhoades said. "We had two freshmen starting on the offensive line, so those four kids in particular have really stepped up and taken a big role in our offense and our defense."
The scrimmage wasn't all positive for the Cowboys as senior center/defensive end Bryce Garcia went down with a knee injury towards the end.
"That could be devastating to us if he has to miss anything but we get a couple of guys back next week which will help us, but they're not centers," Rhoades said.
Cougars up next for Cowboys
With the preseason finished, Camp Verde's attention turns to the Bronze Boot Game.
The Cowboys will host Chino Valley on August 25 to open the season.
"I think playing them first is probably the best way to go," Rhoades said. "I really do, not from any other stand point other than it forces us to get ready to go right off the bat."
Last year Chino Valley beat Camp Verde 52-0 but in 2015 the Cowboys won the Bronze Boot the first time it was contest, with a 26-12 triumph.
"It's gonna be a fun game, it's going to be a tough game but it's going to be fun," Bruno said.
Since Chino Valley was in Verde Valley on Wednesday to take part in Mingus Union's four-way scrimmage, a Camp Verde coach and some players went to Cottonwood to watch but they didn't formally scout the scrimmage.
A handful of Cougars came to Camp Verde's scrimmage on Friday.
Mingus Union head coach Bob Young said the Cougars were scrappy.
"Chino is Chino, they're scrappy, they're quick, they're quarterback is outstanding and so we have our work cut out for us to keep that quarterback under control," Rhoades said.
Chino Valley is the only higher division school Camp Verde faces this year. The Cougars are 3A, while Camp Verde is 2A and they have 41 players on the Maxpreps roster compared to 26 for the Cowboys.
"They have the ability to get more kids to play, which we struggle with, we got a lot of kids that play two ways and so we kinda have to play with a chip on our shoulder I think, a little bit because we have to go both ways and they have the luxury to move people in and out but other than numbers, the game's the game," Rhoades said.
During the offseason Rhoades constantly reminded the Cowboys of last year's blow out.
"Chino's gonna be better than (Scottsdale Prep) but they're not gonna be expecting what we're going to give them, that's all I have to say about that," Sarkesian said.
More like this story
SUBMIT FEEDBACK
Click Below to: