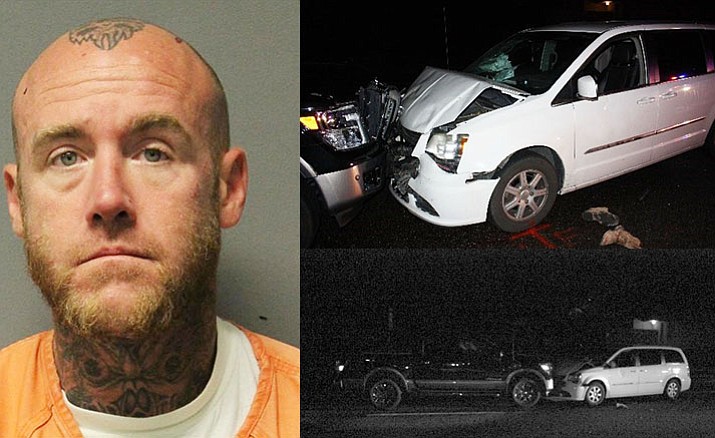 Originally Published: August 21, 2017 2:04 p.m.
COTTONWOOD - Sunday at about 7 p.m., Cottonwood police responded to a head-on crash in the 600 block of South Main Street in an incident police suspect is the result of an opioid overdose by one of the drivers.
The investigation, according to a news release from Cottonwood Police Dept. Sgt. Monica Kuhlt, revealed 34-year-old Cottonwood resident, Eric Everett Dale Johnson, and an adult male passenger were traveling south in a white 2012 Chrysler van when Johnson allegedly crossed lanes of traffic and collided head-on with a 2017 Nissan pickup. The driver of the Nissan is from Prescott Valley.
Johnson and his passenger were pulled from the vehicle and CPR was performed by citizens, which included a volunteer from the police department's Citizens on Patrol program, Kuhlt's news release stated.
The news release continued: "Johnson was suspected of opioid overdose due to pin-point pupils, no pulse and he was turning blue. Emergency medical personnel treated and revived him on scene and then transported to Verde Valley Medical Center. The passenger was flown to Flagstaff Medical Center for a higher level of care and was listed in critical condition."
The driver of the Nissan pickup reported injuries due to the airbag deploying. Johnson was treated and released from the Emergency Department of VVMC. He was subsequently arrested and booked into jail for aggravated assault, aggravated DUI and criminal damage; all felonies, according to the news release.