Editorial: Solar eclipse, world events, show that what goes around, comes around
Originally Published: August 22, 2017 2:37 p.m.
Walter Cronkite opened the Feb. 6, 1979, CBS Evening News by saying "the forces of darkness ruled in daylight."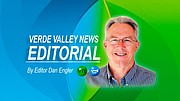 Cronkite went on to report that the mid-morning total solar eclipse 38 years ago was something of a disappointment for some people. Heavy cloud cover and rain covered much of the country and dampened the experience of those who had waited to see a solar eclipse.
Sound familiar?
All of which goes to show that while we think things in this old world have dramatically changed, and our experiences are new and unique, the truth is not much has changed in the past 40 years.
Just as solar alignments repeat past patterns, a look back at 1979 shows that human nature and national-international politics are about as predictable as the next solar eclipse.
Jimmy Carter was in his first term as president. The jury was still out on Carter in the court of public opinion. The United States was still licking its wounds from the Nixon years. While Americans longed for a great president, many doubted whether Carter was going to measure up.
Sound familiar?
Racial tensions escalated in America during Carter's presidency. Puerto Ricans rioted in Massachusetts and African Americans did the same in Florida after four police officers were acquitted in the beating death of a black insurance salesman. The violent showdown resulted in 18 people killed and 400 more injured. The same year, members of the Ku Klux Klan attacked protesters in North Carolina and five people were killed.
Sound familiar?
Also in 1979, American was still feeling the chill of the Arab oil embargo and the Iranian hostage crisis of the U.S. embassy in Tehran. The latter prompted President Carter to sign an executive order deporting Iranian students living in the United States and bolstering border screening for people wanting to enter the United States.
Sound familiar?
As was the case 38 years ago when Mr. Cronkite reported that darkness held dominion over daylight, the forces of darkness had a strong grip on the world as well.
Not much has changed today. We also experienced a solar eclipse on a cloud-filled day this week, and there is much in this world that we wish we could change.
America survived the travails of 1979, just as we will get through the sometimes seemingly futile challenges that confront us today.
By the way, the next solar eclipse in North America will take place in April 2024.
What goes around, comes around.
More like this story
SUBMIT FEEDBACK
Click Below to: