Thousands of supporters, protestors contend at Trump Rally
Phoenix police proactive in keeping peace

By
Halie Chavez
|
@haliephoto
Originally Published: August 23, 2017 3:25 p.m.
PHOENIX – Tuesday night on the corner of Washington and 3rd in Phoenix, protesters of President Donald J. Trump collided with the supporters of his campaign-style rally at the Phoenix Convention Center.
The night ended with tear gas and rubber bullets being fired by Phoenix Police Department officers at anti-Trump protestors, along with the arrest of four.
The week prior to the rally produced rumors that the president's decision to come to Arizona was to pardon former Maricopa County County Sheriff Joe Arpaio, who is awaiting sentencing on a conviction of criminal contempt in a case alleging racial pr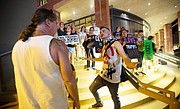 ofiling of undocumented immigrants.
The day of the rally, however, the White House made a statement that President Trump would not be pardoning the man known as the "Toughest Sheriff in America" during his visit to Arizona.
"I can tell you that there will be no discussion of that today at any point, and no action will be taken on that front at any time today," Trump press secretary Sarah Huckabee Sanders said.
Rally attendees began lining up in the 108-degree weather as early as noon despite the campaign rally not beginning until 7 p.m. Street vendors set up tables selling "Make American Great Again" hats and T-shirts with President Trump's face printed on the front, along with buttons and various other merchandise.
The anti-Trump protests were organized through Facebook events. The largest event began at 6 p.m. and was scheduled to end at 9.
"Stand up against bigotry, hate, white supremacy, Nazis, Islamophobia, transphobia, xenophobia," an event with over 15,000 people "interested" stated.
Photo Gallery
Trump Rally protestors and supporters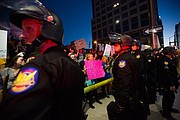 Tuesday night on the corner of Washington and 3rd in Phoenix, protestors of President Donald J. Trump collided with the attendees of his campaign-style rally at the Phoenix Convention Center. (Photos by Halie Chavez)
Protesters waiting in line were separated from rally attendees by police. When the sidewalks overfilled with protestors, yellow tape and a wall of officers stood between the opposing groups.
As attendees were directed past the corner protests, anti-Trump protestors chanted "No Trump, no KKK, no fascist U.S.A," as well as expletives condemning Trump. The protestors carried signs condemning the president, some directed his comments on Charlottesville.
As a woman waiting in line for Trump with young children walked by, the chants turned to "You're teaching your child to hate."
Trump supporters, often donning the famous red hat, yelled back "get a job," "losers," and "we're not Nazis." Chants of "build that wall" also ensued.
At 7 p.m., the scheduled start time of the rally, the crowd peaked in size. Thousands of people gathered at the intersection and surrounding streets near the convention center. Phoenix police controlled foot traffic through the intersection and the light-rail bypassed its usual stop at the Convention Center.
Just a little over one week since the Charlottesville protests turned deadly, the president's visit was controversial. Phoenix Mayor Greg Stanton had asked President Trump to postpone his visit, saying that pardoning Arpaio in wake of Charlottesville would add "insult to very serious injury."
Inside the rally, President Trump hinted to the crowd Arpaio would be pardoned another day.
"You know what, I'll make a prediction – I think he's going to be just fine," Trump said. "O.K.? But I won't do it tonight, because I don't want to cause any controversy."
While a plethora of shouting matches and name-calling ensued outside the center, the protest was sufficiently contained. Toward the end of the night a few protestors were arrested in relation to charges of assaulting a police officer for throwing water bottles and rocks at police.
Phoenix police responded with tear gas and rubber bullets.
More like this story
SUBMIT FEEDBACK
Click Below to: