Editorial: President should not hold trump card in Joe Arpaio case
Originally Published: August 24, 2017 1:38 p.m.
Ours is a nation in which there are three separate and distinct branches of government.
The United States' Separation of Powers Doctrine requires the legislative, executive, and judicial branches of government must remain distinct in order to prevent abuses of power.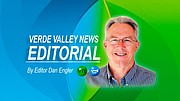 But as it applies to former Maricopa County Sheriff Joe Arpaio, America is not a nation of laws. Rather, Arpaio's case has become an exercise in authority by individuals who put themselves above the law.
First there is Arpaio himself. In a legal case that challenged the former sheriff's policies of racial profiling, Arpaio was ordered by a judge to stop targeting drivers based on ethnicity and holding them without charges. He eventually was found guilty of criminal contempt for ignoring that court order. He is scheduled to be sentenced Oct. 5.
The court determined that Arpaio believed himself to be above both the legislative and judicial branches of government by ignoring the Fourth Amendment rights of those held without charges and blatantly defying a court order to discontinue the racial profiling practices employed by his office.
It is unlikely Arpaio – the once self-described "Toughest Sheriff in America" – will face the legal consequences of his actions because of another exercise in individual authority trumping our nation's separation of powers doctrine.
During his Phoenix appearance Tuesday, President Donald Trump strongly suggested Arpaio will receive a presidential pardon on his conviction of criminal contempt.
Such an action will wipe the slate clean for the former sheriff, and totally disregard the integrity of the judicial process that determined Arpaio guilty.
All of which begs the following question:
-Is America a nation of laws?
-Are America's legislative, executive, and judicial branches of government truly distinct?
-Or, is America a nation of men who exercise abuses of power based on personal beliefs?
Mr. Arpaio was given due process in a court of law and determined to be guilty of the charges brought against him.
The court should be allowed to follow through on its judicial authority based on the law handed down by legislative authority.
And do so completely free of interference by the executive branch of government.
That should be the ultimate trump card in the people's case against former Sheriff Joe Arpaio.
SUBMIT FEEDBACK
Click Below to:
More like this story