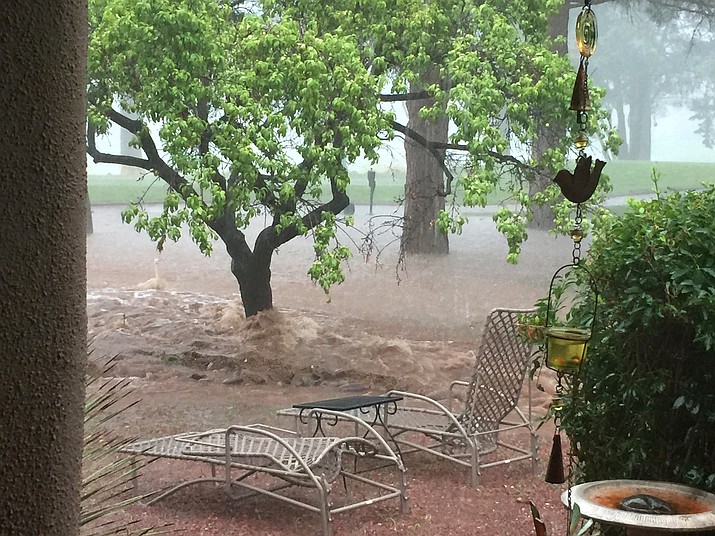 The 2017 monsoon has already had all the elements of a dramatic weather movie -- cascading waterfalls, lightning, flooding, wind shifts, a heroic rescue, and uprooted trees – and there are still weeks to go before the monsoon officially ends on September 30.
A series of storms hovering over the Village of Oak Creek caused some of the most memorable scenes that occurred from mid-July through the first few days of August. Residents captured many of those scenes with dramatic photographs of flooding throughout the Oakcreek Country Club course, including a huge weeping willow tree that was uprooted across from the clubhouse.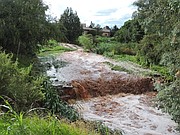 Flooding along Bell Rock Road, Verde Valley School Road, and along side streets left debris fields of broken limbs, trash, soil and rocks. While most residents experienced minimal damage from the barrage of storms, there were exceptions. The home of Kelli Klymenko was hit by lightning on July 20, with the electrical surge destroying home electronics. And fencing between homes on Blue Canyon and Verde Valley School Road, damaged by water surging down a rock culvert that had been installed by a homeowner, was destroyed when rushing water flowed from one parcel to the adjoining one. The area's highly erosive soils were damaged in numerous locations, including the roadway directly across from the fire station. The August 2 storm required rescue of a hiker who fell 15 to 20 feet off Cathedral Rock.
Yavapai County has responded to the potential for monsoon damage with several initiatives, including a multi-year study of different flood hazards along Oak Creek, the first complete study in 30 years. Large rainfall events, along with significant growth, have changed drainage patterns. The study, conducted by the Yavapai County Flood Control District in conjunction with the Federal Emergency Management Agency (FEMA) and the City of Sedona, will occur in phases over the next several years.
The flood control district has also produced a Homeowners Guide to Drainage around Your Home, available online at the agency's website, to assist residents doing work on their homes. The guide is useful, especially for new homeowners, builders, or neighbors trying to determine how to limit potential damage from the monsoon storms. The county recommends that homeowners contact them prior to beginning work on property or within the public right-of-way, which may require a permit. County records are available to show whether there is a dedicated drainage easement for significant washes or channels.
A title report or plat of a lot will show the location and boundaries of the easement.
If one exists, it is also important to find out who is responsible for maintenance of the easement, which may include the individual homeowner. If there is a regional drainage facility or large wash, a homeowners association or the county may be responsible for keeping channels free of trash, debris, sediment, or clogging vegetation and other obstructions.
For more information, contact the Yavapai County Flood Control District at their office in Cottonwood, (928) 639-8151.