Camp Verde comes up just short against Chino
Originally Published: August 26, 2017 2:12 p.m.
Camp Verde football fared much better against Chino Valley this time around but came up heartbreakingly short.
Chino Valley beat the Cowboys 21-14 on Friday night to retain the Bronze Boot. Last year the Cougars beat the Verde Valley CV 52-0.
Camp Verde head coach Jerome Rhoades, who has taken over the Cowboys' program since the blow out last year, said this close loss hurt more.
"Oh yeah, oh heck yeah," Rhoades said. "I mean we had every opportunity to in the world to win this football game and we just came up short. In the end, we couldn't execute, we couldn't block their big ends. Those two ends are men and we just we just couldn't find a way to slow them down when we need to in the end."
The Cowboys had the ball at the Chino Valley 15 yard line on 3rd and goal with 23 seconds left but the Cougars got a sack and Camp Verde didn't have time to get another play off.
The Chino Valley coaching staff tried to call a time out before the walk off sack but it wasn't granted.
"It was a scrappy game," said Chino Valley head coach Wade Krug. "It was a really good, hard fought game on both sides of the ball. Camp Verde is a lot improved over the last year and they're going to be doing some good things."
Chino Valley went ahead 21-7 but after senior Ryan Loza scored a 1-yard touchdown, the Cowboys pulled to within one score.
On the last drive, Camp Verde senior receiver/linebacker Kieran Chrisman caught a 28-yard pass to keep hope alive.
"I thought that my team played really well tonight and we put up a really good fight against a team that came out and rolled over us last year," Chrisman said. "So to come out tonight and put up a pretty fair fight, it felt really good and really humbling."
Chrisman had five catches for 120 yards and 137 yards on kick off returns.
Rhoades said the Cowboys already had their two-point conversion play picked out for when they scored their third touchdown.
"It was a lot different from last year but that doesn't make it hurt any less, there's no moral victory in this at all as far as I think because I think we were going to win this football game," Rhoades said. "I mean we should have won this stinking football game."
Camp Verde started the game strong with a 45-yard touchdown run by junior Dominiq Bruno. However the Cougars answered about four minutes later with a 94-yard touchdown run by junior athlete Michael Paulus.
"It's a really different team," Paulus said about the Cowboys. "They're pretty good, they can do some things in their division this year and I'm just glad we got out of here with a W against a tough team."
Paulus scored three touchdowns, rushed for 164 yards on 17 carries and passed for 90 yards as well.
In 2015, Camp Verde won the Bronze Boot the first time it was awarded, 26-12.
Chino Valley senior captain Colton Sandberg said the rivalry is important to them.
"It's the biggest one Chino's had in a long time," Sandberg said. "I'm very happy to come away with that W."
Bruno ran nine times for 63 yards and caught six passes for 44 yards. Cowboy senior quarterback Payton Sarkesian was 12-for-23 for 171 yards with an interception.
"I didn't get to play last year, but being on the field and being able to play and do what I can to make a difference, it felt really good and I'm proud to be out here and part of this team, part of this family," Chrisman said.
Rhoades said Loza running ball in the middle of the field impressed him. Loza had 70 yards on 19 carries and score.
"We kinda showed that we can move the football in the middle of the field," Rhoades said. "So that was encouraging. Dominiq again was encouraging but the defensive line did a good job. We played good enough defense to win the football game, we just didn't execute on offense well enough and I think that's my fault, we had too much in, we tried to be too fancy and I think we need to kinda scale it back next week and do a better job of working on our execution during the week."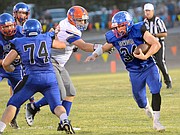 The narrow loss comes at the hands of a team that is a level higher than Camp Verde, has nine more players, went 5-5 last year and expects to improve upon that.
The Cowboys haven't had enough players to field a scout team to prepare for opponents in practice.
"It's as good as we can ask for I think giving the situation, we got after it, we played, we just came up short on about three or four big plays there towards the end," Rhoades said.
Up next for Camp Verde is a trip to Scottsdale Christian on Friday. Chino Valley hosts Sedona Red Rock on Friday.
"They're very good, they're very fundamentally sound right now and they're going to be doing some great things over this season, they're going to be doing a lot and I'm very impressed with them and what coach Rhoades is doing with them," Krug said about Camp Verde.
SUBMIT FEEDBACK
Click Below to:
More like this story