Cannabis 101: SR 260 cultivation facility grows 60-plus strains of medical marijuana
By
Bill Helm
|
BillHelm42
Originally Published: August 26, 2017 2:11 p.m.
CAMP VERDE – At first glance, the names Sour Diesel, Honey Bananas, Lavender Jones and Tangerine Dream might sound like flavors of a child's chewing gum stash.
But they're not.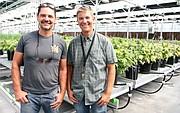 They are some of the 60-plus strains of medical cannabis that are cloned, grown, then harvested in Camp Verde by Harvest, Inc., Camp Verde's most recent cultivation facility.
And the folks who do the cloning, growing and harvesting take their work quite seriously, says Danny Whisenand, cultivation manager at Harvest, Inc.
"The employees make it special," Whisenand says. "It all comes down to the people we work with. All of our staff is very well trained."
Photo Gallery
Camp Verde Harvest Medicinal Cannabis Grow Facility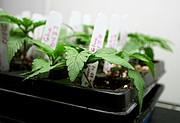 Medical cannabis is cloned, grown, and then harvested in Camp Verde by Harvest, Inc., Camp Verde's most recent cultivation facility. (Photos by Bill Helm)
About 42 employees are responsible for producing medical cannabis at the 35,000-square-foot Camp Verde facility.
Though it's not a requirement for employees to have a degree, CEO Steve White says that either an "educational background or experience growing anything from flowers to previous experience growing cannabis" do help his staff do the best work possible for their clients.
Different climates, different cannabis
White says that there are a "number of different lines of study that would lend themselves to growing, such as biology, botany, chemistry, science degrees, or classes in science."
Before coming to Harvest Inc. a year ago, Whisenand ran a 17-acre garden in Chino Valley. In fact, he says his background is "geraniums and petunias."
Recently, Harvest Inc. allowed The Verde Independent/Camp Verde Bugle an extensive interview with White, as well as a tour of the company's Camp Verde facility, on SR 260 west of the I-17 interchange.
Though the closest Harvest Inc. dispensary to Camp Verde is its Scottsdale site, White says that there will be a Harvest dispensary in the Verde Valley "in the near future."
According to White, not all climates are good for growing cannabis.
"Verde Valley is one of the better climates for growing cannabis," he says. "Some respond better to Camp Verde, some better to Flagstaff. We grow different strains based on different clients, based on the data we've collected."
Harvest Inc. doesn't collect data "for growing," White says. "We collect data because we choose to do business a certain way."
Indoors, outdoors
With both indoor and outdoor growing options at the Camp Verde facility, Harvest Inc. is able to simulate all sorts of growing conditions, Whisenand says.
Harvest Inc. applies two stages of vegetation, the Veg Room and the Flower Room. The Veg Room summer conditions with 18 hours of sunlight, Flower Room simulates fall conditions with 12 hours of sunlight.
Says White, Harvest Inc. refrains from using harmful pesticides. "We test all of our product for contaminants, potency, mold and mildew. We do not sell product that has contaminants."
Internal, external
Harvest's cultivation facility grows cannabis to be eaten, inhaled or applied topically. Within each, White says there are a "number of options."
Because smoking cannabis can transmit carcinogens, White says that Harvest recommends vaporization rather than smoking.
The Harvest way
Harvest's Camp Verde facility features a fully-automated greenhouse with a building management system that senses and stabilizes the environment.
Branches from cannabis plants known as mother plants are cut, then replanted and grown, a process known as cloning. In this room, a fan blows cold air onto the plants. The fan produces a vibration that then produces hormones at the base of the plant. The fan also keeps the leaves dry.
Not for production, the mother plants are kept no more than five months before they are either flowered or destroyed.
As the cannabis plants grow, growers will trim the tops of the plants so they'll branch.
"Just like any other crop, you need branches," Whisenand says.
From the beginning, each plant is given a tag much like the plastic band a patient wears while in the hospital. According to Whisenand, it's a "stringent inventory procedure," as each tag has an identification number, followed by its strain, then finally its harvest date.
Harvesting is what growers do when they remove the flower from the plant. Though the stereotypical symbol of cannabis is the leaf, it's actually the flower that holds all the nutrients.
Says Whisenand, someone would have to consume "a whole lot of leaves" to feel anything.
Part 2: In the next part of this series, Verde Valley Newspapers will interview medical cannabis patients in Arizona, as well as discuss reasons why patients in rural communities are less willing to go on the record.
-- Follow Bill Helm on Twitter @BillHelm42
More like this story
SUBMIT FEEDBACK
Click Below to: