Editorial: Arpaio tease adds fuel to 2018 mid-term fire
Originally Published: August 29, 2017 12:46 p.m.
The leaves are obviously shaking on political trees in anticipation of the 2018 mid-term elections. That is especially true in Arizona with the news that Joe Arpaio may make a run for the U.S. Senate seat currently held by Jeff Flake.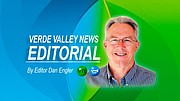 Mid-term elections often see the political pendulum swing dramatically, most often as a statement toward a sitting president who has shaken up the status quo.
A classic example of that was the "Republican Revolution" during Bill Clinton's first-term in office in 1994. Democrats who supported Clinton's budget plan were especially vulnerable to the GOP's wrath that year. When the mid-term election dust had settled, the Republican Party's Contract with America succeeded in regaining control of the U.S. House and Senate and the majority of governor's seats in America.
President George W. Bush suffered a similar voter revolt in the 2006 mid-terms. Those troublesome weapons of mass destruction in Iraq resulted in voters shifting the balance of power in both the House and Senate with Nancy Pelosi emerging as Speaker of the House.
History repeated itself in 2010 during President Barack Obama's first term. The Tea Party movement had gained considerable steam following the passage of Obamacare and Democrats subsequently lost control of the House of Representatives.
All of which brings us to 2017. We're one year away from the first mid-term election of the Trump presidency and President Trump certainly has his detractors. In fact, it's hard to remember a sitting president for whom you could not find a neutral opinion. With Trump, people either firmly support the president, or they adamantly oppose him. A middle ground does not exist. That's the perfect recipe for a mid-term shuffling of the political deck.
Interestingly, in Arizona, should former Maricopa County Sheriff Arpaio follow through on this week's tease that he has his sights set of the Senate seat held by Mr. Flake, the mid-term shake-up in Arizona could come from a pro-Trump Republican vs. an incumbent member of the GOP who has been critical of the president.
Again, a look back in history shows such a showdown is not unprecedented. Unfortunately for the GOP, it proved to be the undoing of the Republican Party's stranglehold on Arizona's two U.S. Senate seats. When Republican U.S. Sen. Paul Fannin retired in 1976, two Arizona Republican House members, Sam Steiger and John Conlan, squared off in a GOP primary described as a "meat ax vs. a scalpel."
Steiger won the Republican Primary. But the ill will generated from a race many claim was the dirtiest in Arizona history left a foul taste in the mouths of the majority of voters. The general election in 1976 was clearly a white-hat, black-hat race and Democrat Dennis DeConcini handily defeated Steiger and enjoyed a long run as Arizona's junior senator in Washington.
Who knows who would emerge from a knock-down drag-out between Arpaio and Flake? But you can bet there are many who would see such a race as a golden opportunity for the Democrat waiting in the wings.

SUBMIT FEEDBACK
Click Below to:
More like this story