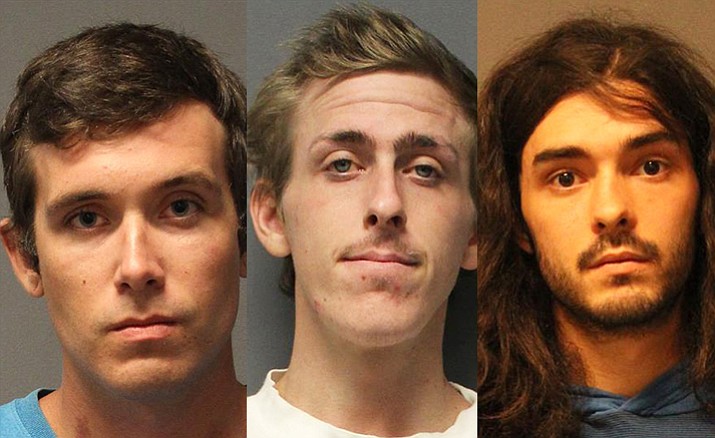 Originally Published: August 30, 2017 4:31 p.m.
COTTONWOOD – Three men have been charged with arson and burglary for a May 2013 incident at the 1900 block of South Deserama Circle in Verde Village.
The suspects are 26-year-old William Stockwell from Cornville, 25-year-old Joshua Dawson from Cottonwood, and 22-year-old Bradley Meyer from Cottonwood.
An investigation was initiated until leads were exhausted after the arson and burglary of the home, according to news release from Yavapai County Sheriff's Office.
In July of this year, a YCSO detective received tips regarding the involvement of certain suspects in this incident. These tips provided information which proved reliable as they contained details only known to detectives and not shared in the media.
After weeks of follow-up by the detective, the suspects were identified. Detectives confirmed the suspects knew that the residents at the Deserama Circle home were out of town at the time of the arson and burglary.
It was learned Dawson had an ongoing conflict with the Deserama Circle occupants related to drug sale favoritism, so the suspects decided to burglarize and burn down the home, according to the release. The suspects did not realize that one of the occupants was actually still in town and came home to discover the fire around 1 a.m. and called 911.
After developing probable cause to link the suspects to this arson and burglary, all three were charged with arson of an occupied structure, burglary, property damage, and theft.
Dawson and Meyer were already in-custody on unrelated charges and additionally charged on Aug. 10. Both are held without bond.
Stockwell was located during a traffic stop in Cottonwood on Aug. 28, arrested and booked into the Camp Verde Detention Center. He remains in-custody on a $25,000 bond.
Damage to the home resulted in repair costs of over $116,000, loss of rent during repairs of nearly $5,000 and an estimated $5,000 in personal property loss from the three tenants living in the home at the time of the fire. The total loss amounted to more than $136,000, according to the release.
More like this story