Cowboys boys soccer looks to reload
Originally Published: August 31, 2017 2:23 p.m.
Camp Verde High boys soccer has a lot to replace but they're still loaded with talent.
On Tuesday night, the Cowboys opened the season with an 8-1 win over Payson.
"We were really nervous at the beginning, brand new season, we had a really good scrimmage but Payson is always a rival for us," said Camp Verde head coach David Miller. "I mean they're a big school and they can field a lot of players so we were concerned that they would come out and give us a really hard game."
At least in their first game, Camp Verde didn't seem to miss a beat despite losing 11 seniors from last year's state semifinalist.
"We lost 11 last year and all quality players and that went to the depth of the team," Miller said. "Now instead of being able to play 15 or 20 deep on the team, we're down to being able to play 13, 14 but the players that are contributing now will gain experience and we'll get that depth that we're looking for."
Miller said losing that much depth really hurts when you consider how many games they play in just late August, September and October and the wear and tear if injuries and grades issued.
"You like to have at least 14, 15 depth and quality players and you can fill in from there," Miller said.
The Cowboys do return first team All-Region Preston Maynard and Nate Schultz from last season.
This year there will be a youth movement for the Cowboys, with 15 freshmen, thought they'll mainly play on JV, four or five seniors and three juniors.
Two freshmen scored against Payson.
"They'll add some flavor to the team as we move up," Miller said. "I'm excited with the guys that returned from last year."
Leading the defense will be Maynard, a senior goalkeeper who was second team All-State last year.
Miller said he'll see about 98 percent of the minutes.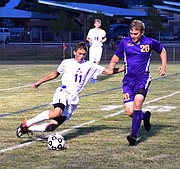 "I feel he's the best in the state," Miller said. "He's tremendous, he understands the game really well, he refs on the side, he just is a great ball player and I think he's the best in the state."
Schultz, who was one of the top track and field athletes in the state last year, leads the defense.
"My defenders across the top line are pretty solid, they're young I have two sophomores and a junior playing back there and then I have a senior anchoring it," Miller said. "It's like a three man rotation back there."
Miller said Schultz is great leading the back line but he presents an enviable problem.
"He's fantastic back there but he leads on the rest of the field so he's not going to play 100 percent back there," Miller said.
In the midfield, there's a freshman in the center but otherwise they have a lot of experience.
"The outside mids are inexperienced but I got four and we can rotate for freshness," Miller said. "The other guys are seniors or juniors and they have more of the beef to play the positions."
Against Payson, the Camp Verde forwards shredded the Longhorns' defense and their coach asked them if they know what offside is.
"I've got half a dozen, everybody on the team thinks they're a striker," Miller said with a laugh. "You can see the pressure that we put on other teams. If we can get the ball to the front and they're hungry out there."
Freshman Luis Venegas is a rookie in high school but Miller said he brings a lot of club experience. His best friend and sophomore Kelton O'Grady headed in a goal against Payson.
"(Venegas) just has an eye for the ball, he's there at the right place and the right time," Miller said.
Though most of the Camp Verde strikers are young, their leaders are senior Wesley Loveall and junior Joseph Jones, said Miller.
"The meat and potatoes up there is going to be Wesley Loveall and junior Joseph Jones," Miller said. "One's a senior, one's a junior. They're fast, they're strong, they're the ones that will wear down the opposition."
Camp Verde's next action is at the Chino Cup this weekend and then they travel to Chino Valley to face the perennial state champs. Their next home game is September 23 against Page.
"We'll have 22 games this year counting tournaments and counting the preseason game," Miller said. "It's tough, not matter how you stack it. You play 22 varsity matches, it's gonna be tough. We play Chino Valley, four-time defending champion at least twice, maybe three times. We play them in the Chino Cup this weekend and then in a home and home, big rival."
More like this story
SUBMIT FEEDBACK
Click Below to: