Editorial: We've gone round and round on roundabouts long enough
Originally Published: August 31, 2017 11:58 a.m.
For whatever reason, folks in the Verde Valley insist on going round and round over the seven planned roundabouts currently under construction on State Route 260 between Cottonwood and Camp Verde.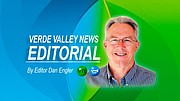 Especially on social media, one would think the Arizona Department of Transportation has it in for the Verde Valley and 260 is being converted into a death trap.
As if the current two-lane alignment from Thousand Trails to the I-17 interchange has been the model for accident-free transportation. Just the opposite is true. That stretch of highway long ago exceeded its carrying capacity and has become one of the more dangerous stretches of highway in Arizona. The transition to a four-lane bifurcated highway is long overdue.
Further, despite all the complaining about roundabouts, there is ample evidence they provide safe traffic flow. We see that daily with the five roundabouts on U.S. 89A between Cottonwood and Clarkdale.
Even better evidence can be found when comparing the intersection of 6th Street and Mingus Avenue with Mingus and Willard Street. Mingus and 6th is a three-way stop that becomes a traffic logjam for early morning and late afternoon commuters. Compare that to the roundabout at Mingus and Willard and it is obvious which intersection is safer and which allows for a more steady traffic flow.
The new-look AZ 260 is going to be just fine. We are long overdue for a complete four-lane highway all the way between Cottonwood and Camp Verde.
The roundabouts provide access where it's needed most and certainly is preferable to stop-and-go signalized intersections.
Finally, this issue has been debated to death and roundabouts are going to be a reality on 260.
You had better learn to live with it.
SUBMIT FEEDBACK
Click Below to:
More like this story