Mingus girls soccer opens season with four routs
Originally Published: December 2, 2017 1:08 p.m.
Mingus Union girls soccer rolled to a perfect start in the first four games of the season and into the championship game of the Desert Cup Classic.
On Friday night in their home opener, the Marauders (4-0) beat Phoenix Metro Tech 7-0.
Sophomore Marli Ureta scored two goals and had two assists, sophomore Felicia Bueno scored two goals and had two assists, senior Taylor Ervin had a goal,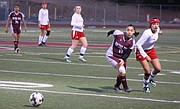 senior Isabella Dalu scored a goal and freshman Sadie Backus had a goal
"It's hard to tell because of the quality that we're playing against," said Mingus head coach Joe Rongo, "but I'm really liking the passing combinations they're getting, the drop balls we're using, so we're not just one dimensionally going forward, we're spreading the field, the defenders are using the goalie as outlet passes. So it just seems like there's a lot of soccer intelligence going on."
With the 7-0 win, the Marauders have outscored opponents 24-2.
Already with a big lead going into the break, Mingus Union moved sophomore goalkeeper Zoey Arwine to forward in the second half.
"It was fun and it was fun working on the field, trying something new because I've been a goalie the last four or five years," Arwine said.
Arwine had four saves earlier in the week against Phoenix Moon Valley earlier in the week and five against Laveen Cesar Chavez.
"It's a different kind of cool because when I'm in the box I feel cool when I save something and when I'm out on the field I feel cool when I have a shot to improve the team and improve the score," Arwine said about playing in the field.
Mingus started the week at the Desert Cup Classic in the Valley of the Sun. With three wins, two by shut out and scoring at least three goals in each game, the Marauders racked up 29 out of a possible 30 points in the tournament's pool play.
The teams get six points for a win, one point per goal up to three and an extra point for getting a shut out. In the five groups across three divisions, only one team, Phoenix Arcadia, racked up more points than Mingus Union.
"That was exciting to see," Rongo said. "We walked in that tournament not knowing what our quality was or what we were facing and compared to last year it was a big turn around in that tournament anyway, so we'll see."
Mingus Union opened the tournament with a 3-0 win over Moon Valley. Ureta scored two goals, sophomore forward Jasmine Vargas had one goal and Bueno had three assists.
Then the Marauders beat Cesar Chavez 5-2. Ureta had a hat trick, Bueno two goals and two assists, sophomore Jaiden Behlow one assist, Backus one assist and junior Ginessa Altamirano one assist.
"We did amazing," Arwine said. "I didn't have much expectations for our team, like I was coming in with an open mind and seeing what was going to happen and we absolutely killed it."
Then the Marauders beat Buckeye Youngker 9-0. Ureta scored goals and had an assist, Bueno had a hat trick and three assists, Behlow a goal and an assist, Altirmirano a goal and an assist, Backus a goal and an assist and junior Kaitlyn Card also scored and had an assist.
The Marauders earned a spot in the Division 2 championship game on Saturday against Phoenix Northwest Christian. Results were not available at press time.
"It's amazing, I honestly didn't think that was going to happen," Arwine said about making the final.
Getting to the championship means the Marauders have games two days in a row and five days of out six.
"It's tiring yeah but I love soccer, so it's just going to be another opportunity to play again," Arwine said.
Rongo said they brought JV players to the tournament to provide more rest and for them to get experienced, that they used a lot of ice, took ice baths and hot baths with Epsom salt and passed around the Flexall and Bengay on the bus.
He said Vargas is out a week to 10 days though after she took an elbow to the eye and broke a couple arteries.
"They're sore, they're tired and there was elements of this game that looked really sluggish and that's just a sign of how tired and how hard they're working," Rongo said after the Metro Tech win.
SUBMIT FEEDBACK
Click Below to:
More like this story