Programs push Camp Verde small businesses to new levels of success

By
Halie Chavez
|
@haliephoto
Originally Published: December 2, 2017 2:41 p.m.
CAMP VERDE – Ruby Road Resale Vendor Mall, both an antique and thrift store, has operated in Camp Verde for more than 12 years. Furniture, knick-knacks and clothing are abundant throughout the rooms. The store is selective when it comes to vendors that sell in the 8,000-square-foot space, ensuring that the variety of booths "fit in."
Ruby Road maintains an active Facebook page – posting updates on merchandise and more recently, holiday hours. Customers comment their questions on pieces before actually stopping in the store. The business has a rating of 4.5 stars out of 5 on Facebook, with 39 5-star ratings.
Pam Bridgell, owner of Ruby Road Resale, says free online classes through Yavapai College Small Business Development Center helped her learn how social media can help market her business.
Bridgell also sat down with Richard Hernandez with Yavapai College to talk finances.
"I know how to run my business and I love my customers – I'm passionate about that, not the nuts and bolts. [Hernandez] has done tutorials to help me get from A to B on the financial part of it, so from that aspect it's been really positive," Bridgell said.
Camp Verde hosts business counseling and assistance via two different programs.
The program Bridgell worked with is in collaboration with the Yavapai College Small Business Development Center. The college's small business representative is available on Wednesdays via scheduling.
The center offers free and $20 entrepreneur workshops. The workshops teach a variety of skills and topics: marketing, social media, financing, tax licenses, trademarks and copyrights.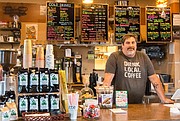 Darryl Olinick, owner of Thanks a Latte and Green Valley Roasting Company, says the program was helpful for him as a new business owner. Olinick bought his businesses a year ago – the programs are not only available to new businesses, but new owners as well.
"I was starting to have some doubts about my business and it clarified," Olinick said. "They went over basic fundamentals."
The other program was a conjoined effort between municipal economic development departments.
Camp Verde, Sedona and Cottonwood's respective departments collaborated to write a grant application to fund a small business assistance center. After receiving the grant, Cottonwood hired Kathy Bazan as the business specialist for the shared service – Bazan is available to Camp Verde on Tuesdays.
"[Bazan's] enthusiastic about her job. She's totally engaged, she really counsels on a personal level with these folks. I've heard stories about her going out of her way to do the things necessary to help them out," Economic Development Director Steve Ayers said.
Ayers says between the two programs, there's a plethora of counseling time to assist anybody who is looking to grow or start their business.
"It's something we've really been wanting to do for a long time. Now the stars have aligned," Ayers said.
Owners of local businesses in Camp Verde can contact the Camp Verde Economic Development Office at (928) 554-0007 to schedule an appointment.
SUBMIT FEEDBACK
Click Below to:
More like this story