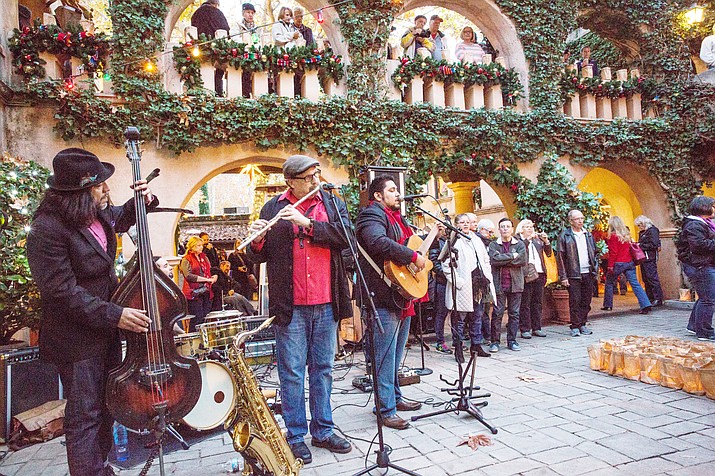 ---
---
Few events in Sedona can boast 45 consecutive years of overwhelming success and holiday magic. Get ready for Tlaquepaque's Festival of Lights, the beloved signature Sedona event—perfect for the whole family, happening on Saturday, Dec. 9 from 3 – 8 p.m.
Come marvel at the arts village, beautifully lit with 6,000 luminarias creating a warm, golden glow flowing over every courtyard, balcony and walkway.
'Tis the season and the Festival of Lights will warm hearts and ignite the holiday spirit in everyone who participates. For your holiday shopping pleasure, the shops and galleries will stay open until 8 p.m. Admission is free—so is the hot cider, and, for your convenience, take the free trolley from the Uptown municipal parking lot to and from Tlaquepaque from 3 to 8 p.m.
Please consider bringing an unwrapped toy for kids who could really use some holiday cheer. Drop them off at the Toys for Tots station located in Patio del Norte. Everyone is warmly invited to play their part in the lighting of 6,000 luminarias at 5 p.m.
The entertainment line-up is, once again, first rate. Enjoy non-stop, live music that includes time-honored holiday favorites, high-energy Latin beats with a seasonal theme, fusion flute renditions, an enchanting violinist in the Chapel, and a violin quartet like you have never seen, gypsy jazz and swing, and for tons of laughs, an over-the-top Vaudevillian musical and dance act. And be sure to stick around for the perpetual crowd favorite, the thunderous, no-holds- barred, Phoenix-based, Ron Tolson's River of Life Tabernacle Choir. They will rock your world.
Come early and bring the kids for photos with Santa and his elves, as traditional Christmas carols are sung in Patio del Norte. Then starting at 5 p.m. sharp (at the tolling of the bell tower), light your own luminaria and watch Tlaquepaque transform into a Festival of Lights. As an additional fun activity for the kids be sure to head to Patio de las Campanas where Tlaquepaque ToyTown will be sponsoring a kids craft table from 3 – 5 p.m. where youngsters get to be super creative painting their special porcelain Christmas ornaments. One per child while supplies last, and any age is welcome.
Along with all the holiday cheer, the season is a time of remembrance and hope. A very heartfelt and moving aspect to the Festival is the sponsoring of a luminaria honoring a loved one lost to cancer or someone who is fighting the disease. Each person that sponsors a luminaria can write a message of hope or remembrance, placing the lit luminaria around the fountain in Patio del Norte. "For just $10 you can make a difference fighting cancer," says Wendy Lippman, resident partner and general manager of Tlaquepaque. "We all have someone in our lives who has been affected by this terrible disease. It's an opportunity to pause and honor them." Proceeds support the American Cancer Society, and the luminarias can be purchased on site or in advance for $10.00 by calling 928-282-4838.
Entertainment Schedule:
Noon–2 p.m.: Ron Tolson and Pianist Bryan Pace. Enjoy the beautiful vocals of Tabernacle choirmaster Ron Tolson with piano accompaniment in the Tlaquepaque Chapel.
2:30-4:30 p.m.: Flutist Sherry Finzer. Known for her bold musical style, Sherry brings together a new fusion sound, blending New Age, Latin, and classical music in the Tlaquepaque Chapel.
3-5 p.m.: Porcelain Ornament Painting just for kids, sponsored by Tlaquepaque ToyTown where youngsters can paint and keep their special porcelain Christmas ornaments. Patio de las Campanas.
3-6 p.m.: Gather the kids for a visit with Santa while enjoying all the traditional Christmas carols and holiday favorites sung by Sedona's favorite dynamic duo, Tom and Shondra (3-5:30 p.m.). Purchase personalized luminaria to honor cancer survivors and family and friends lost to cancer. Patio del Norte.
5 p.m. sharp: Lighting of 6,000 luminarias throughout the entire arts village. Listen for the tolling of the bells to signal the lighting.
3-5 p.m.: Guitarist Tommy Rocks plays fun numbers with this deep fried acoustic rock sprinkled with a dash of blues. Tlaquepaque North.
3-5:30 p.m.: Enjoy the get-down sounds of Andres Y Los Guapos featuring the vocals of Andres Martinez, acoustic guitar, saxophone and Latin percussion. These crowd-pleasing guys bring it with lots of energy and passion. Get ready to bust a move or two. Patio de las Campanas.
4-6 p.m.: Michael Kollwitz on Chapman Stick. If you have never heard a Chapman Stick, it's one of the most expressive musical instruments ever created. Kollwitz is a Chapman Stick virtuoso with 39 years' experience. Don't miss its amazing sounds! Patio de las Rosas.
5-7 p.m.: From classical to hip hop and lots in between, this gifted award-winning violinist and composer, Jonathan Levingston, is sure to enchant and delight everyone in the Tlaquepaque Chapel.
5:30-7:30 p.m.: Phoenix-based River of Life Tabernacle Choir. If you want to be moved to your core don't miss the straight-from-the-heart performance directed by Ron Tolson. Inspiring and uplifting, enjoy their huge sound as they sing seasonal hymns and holiday favorites in Plaza de la Fuente.
5-7 p.m.: Violinist Jonathan Levingston. This award-winning violinist enchants his audiences with a wide ranging and versatile repertoire. Tlaquepaque Chapel.
6-8 p.m.: Gypsy jazz, infectious swing and improvisation combine to help ring in the season, performed by the unforgettable Zazu in Patio de las Campanas.
6-8 p.m.: Check out the Swingtips… hailed as one of the hottest nostalgia pop/swing acts around. Their highly entertaining, Vaudeville-era-inspired interactive show gets everyone on their feet and dancing 'til they drop. Tlaquepaque North.
6-8 p.m.: Urban Electric String Quartet. You will marvel at their moves and amazing reportorial diversity, from rock to cutting edge electronic music. Patio del Norte.
Home to over 45 shops, world-class galleries and five restaurants, Tlaquepaque, the Art & Soul of Sedona, now in its 45th year, is located at 336 State Route 179 in Sedona. It is open daily at 10 a.m. For more information call 928-282-4838 or visit: www.tlaq.com.