Camp Verde council approves Town's ownership of 6.8-acre Verde Lakes Ponds
By
Bill Helm
|
BillHelm42
Originally Published: December 7, 2017 1:38 p.m.
CAMP VERDE – It's been years since the Elmer Moody family decided that the Verde Lakes Ponds become a public municipal park.
So what's another hour?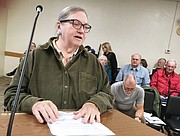 Wednesday, the Camp Verde Town Council discussed and considered, as well as solicited public sentiment, before it voted 4-to-3 to assume ownership of the 6.8-acre parcel on Aspen Drive in Verde Lakes that has been controlled by the Verde Lakes Recreation Corporation.
In its simplest of concepts, Council ultimately accepted the gift of a free park. But as council member Jackie Baker said before the vote, "Nothing is actually free."
As stated in the agenda item, the water in the Verde Lakes Ponds "is poor and there is a substantial amount of deferred maintenance including drainage issues which necessitate funding for short-term and long-term improvements."
Which is why Town staff has created a list of short-term repairs and immediate needs, as well as long-term incremental improvements based on two years, four years, six years, eight years and 10 years.
Added responsibility, added benefit
That the Town of Camp Verde recently approved a multi-million dollar commitment to build a sports complex on SR 260 near the Verde Ranger District, and that the Town is in the midst of improvements to Rezzonico Park, Baker told her fellow council members that maybe it was best to "do those two things for sure and work on them very hard."
Though Baker and fellow council members Brad Gordon and Buck Buchanan voted against the Town assuming ownership of the Verde Lakes Ponds, council approved the added responsibility – and in several phases the Town could provide Verde Lakes with a community park, with improvements such as signage, security, outreach and pedestrian safety plans.
More long-term plans would include picnic tables, benches, garbage cans, and port-a-johns; remove large-felled or leaning trees; install perimeter fencing where necessary with gates to control access, protect children and inhibit wild and domestic animals from entering the park.
Both sides fairly represented
With the donation of the park to the Town of Camp Verde, the Verde Lakes Recreation Corporation created 35 years ago by Moody is "helping his dream of a town park come true," said Donna Moody, who attended Wednesday's meeting with her twin sister Deborah Moody. "At long last, this park will be free for the whole community to enjoy, fish, picnic, bird watch."
Though Donna Moody spoke to council during Wednesday's meeting, Deborah Moody said afterward that she appreciated the "great impartiality" of the council members.
"The concept of the Town of Camp Verde publicly identifying the need to support Verde Lakes is a great surprise," she said. "I like the recognition of the beauty and charm of the park. Also the endangered species in residence here is important."
Deborah Moody also said that council's vote Wednesday is "just the beginning."
Bright outlook for Verde Lakes, Camp Verde
"I'd like to think we can do more than two things at once," Mayor Charlie German told council. "I look at it that council has control over this in the budgetary process. It comes down to how much we can invest in ourselves. I believe in pushing the envelope, [and] the mechanism for people in the community to assist in this park. I have a real bright outlook on what's happening in Camp Verde."
Said German, "I think it's time to step forward, have a little bit of vision and faith, and take this on."
Based on information the Town has gathered since council discussed the Verde Lakes Ponds in October, funding to improve the park could come from annual budgets that include funding for improvement and maintenance staff, State Lake Improvement Funding (SLIF) and other recreation grants, and a privately-established 501-c-3 non-profit neighborhood association to accept donations, such as a Friends of the Verde Lakes Park.
A complete breakdown of the site's status can be found in the Town of Camp Verde's Dec. 6 council agenda, at www.campverde.az.gov/town-council-agenda-2017.
-- Follow Bill Helm on Twitter @BillHelm42
More like this story
SUBMIT FEEDBACK
Click Below to: